v.18 n. 53 – Released January 12, 2015
This Week's Headlines:
December Labor Market Report: 2014 Job Gains were the Largest Since 2000
The U.S. Labor Market Report covering the national employment situation in December showed solid gains. The labor market added 252,000 jobs last month; the unemployment rate fell to 5.6%. Average hourly earnings on private nonfarm payrolls decreased by five cents to $24.57 after increasing by six cents in November. Over the year, average hourly earnings have risen by 1.7% while inflation has increased by 1.3%. The average hourly workweek was unchanged in December at 34.6 hours.
The employer payroll survey reported that total nonfarm employment in the United States increased by 252,000 jobs in December. The change in October employment was revised from 243,000 jobs added to 261,000, and the change in November was revised from 321,000 jobs to 353,000. With these revisions, employment gains in October and November were 50,000 more than previously reported. Incorporating these revisions, monthly job gains averaged 246,000 in 2014 versus 194,000 in 2013.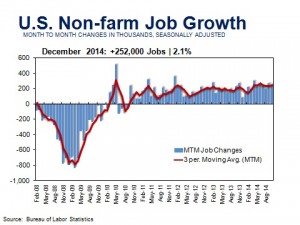 On a year-to-year (YTY) basis, U.S. employment expanded by 2.95 million jobs, an increase of 2.1%. Every major industry sector, including government added jobs over the year and over the month. On a YTY basis, the fastest growing sectors were: mining and logging (5.6% or 49,000 jobs); construction (4.9%, 290,000 jobs); administrative, waste and support services (4.7%, 402,200 jobs); professional and technical services (3.5%, 289,000 jobs); and transportation and warehousing (3.1%, 139,300 jobs). The manufacturing sector also posted an increase in employment – jobs in durable goods were up by 2.3% or 176,000 jobs, while employment in nondurable goods edged up by 0.2% or 10,000 jobs.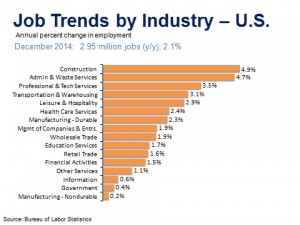 The unemployment rate dropped to 5.6% last month from 5.8% in November. However, much of the decline resulted from 273,000 individuals leaving the labor force versus an increase of 111,000 newly employed persons. The labor force participation rate fell to 62.7% to tie with September for the lowest rate since the late 1970s.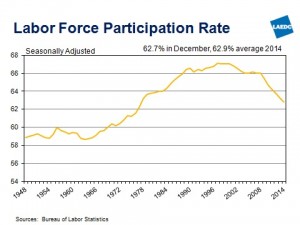 The percentage of long-term unemployed (over 27 weeks) was down significantly over the year. Last month 31.9% of all unemployed persons have been out of work more than six months compared with 37.3% a year ago, but was up slightly from 31.0% in November. In numerical terms, the number of long-term unemployed was down by 1.1 million people over the year. The median duration of unemployment in December was 12.6 weeks versus 17.0 weeks in December 2013.
Summary: The gains in the labor market in 2014 show how much the U.S. economy has moved out of the shadow of the Great Recession. The year finished on an upbeat note last month with the lowest unemployment rate in over six years and the largest yearly job gain since 2000. This augurs well for the new year in terms of both job creation and long overdue upward pressure on wages. (Kimberly Ritter-Martinez)
Source: US Bureau of Labor Statistics
California Financial Report for December
The State Controller's office has released the December financial report for the California General Fund. Half way through the fiscal year (2014-15), total receipts were up by 13.2% to $48.2 billion compared with the same period last year. Total disbursements ($66.2 billion) increased by 13.1% over the same period, exceeding cash receipts by nearly $18.0 billion). As of December 31, the state's cash balance stood at -$16.7 billion.
So far this fiscal year, General Fund revenues are running 6.7% (or $3.0 billion) ahead of projections, while disbursements continue to fall short of expectations. Year-to-date through December, disbursements were 1.2% less than were forecast by the Department of Finance. Total revenues (receipts from taxes, licenses, fees or investment earnings) were up by 13.0% to $47.5 billion compared with the first six months of the previous fiscal year. Most of California's general fund revenues come from personal income taxes, retail sales and use taxes, and corporate income taxes.
In December (fiscal year-to-date), personal income taxes increased by 14.1% to $30.7 billion, beating expectations by 7.1%.
Corporate income taxes continue to surprise, rising by 52.7% to $3.7 billion and running ahead of expectations by nearly 59%.
Revenue from sales and use taxes was up by 6.2% to $11.1 billion, missing projections by 3.3%. After several months of weakness, sales and use tax revenues closed about half of the gap between actual versus forecasted revenues.
The schedule of cash disbursements in the Controller's report showed that expenditures on Local K-12 Education were $24.6 billion during the first six months of the fiscal year, which was 1.9% compared with the previous year. December marked the first month in this fiscal year to show K-12 education funds up over the previous year. Disbursements to Community Colleges edged up by 1.1% to $2.7 billion. Funds received by the UC and CSU systems jumped by 52.0% to $3.2 billion. Contributions to CalSTRS (the state teachers' pension fund) increased by 11.3% to $969 million.
Spending for the Department of Corrections rose by 13.1% to $4.9 billion, while outlays for Health and Human Services increased by 5.6% to $1.3 billion. The amount the state paid to service its debt obligations increased by 3.1% to $2.1 billion (debt service amounts are net of offsets such as federal subsidies and reimbursements from other sources).
As of December 31, the General fund had $28.8 billion in borrowable resources against $16.0 billion in outstanding loans. The loan balance is comprised of $13.2 billion in internal borrowing and $2.8 billion of external borrowing in the form of revenue anticipation notes. (Kimberly Ritter-Martinez)
Source: California State Controller's Office
Consumer Credit Growth Solid in November
Total consumer credit outstanding (all non-mortgage debt) increased by 5.1% ($14.1 billion) over the month in November to $3.3 trillion (seasonally adjusted annualized rate). October consumer credit was revised up from a gain of $13.2 billion to $16.0 billion. Over the 12 months ending in November, total consumer credit was up by 7.0%.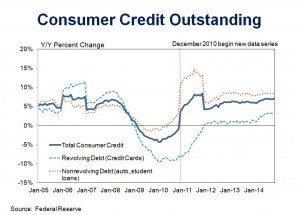 Non-revolving debt, which is primarily composed of credit for new automobiles and student loans, rose by 7.5% last month or $15.0 billion and by 8.4% over the year. Motor vehicle sales hit a 17.1 million pace in November and stayed strong in December. The interest rate on a 48-month new car loan fell in November to 4.06% – a historical low. Demand for non-revolving credit should remain strong through the first part of 2015 as consumers rush to take advantage of low interest rates ahead of the anticipated move by the Fed to begin raising short-term rates mid-year.
Revolving debt (mainly credit cards) contracted by 1.3% ($1.0 billion) as a result of consumers paying down balances – in the middle of the holiday shopping season no less. It is also possible that with the decline in gasoline prices, Americans did not need to use their credit cards as often. Over the 12 months ending in November, revolving credit was up by just 3.4%.
Strong employment gains over the past several months, combined with stronger consumer spending should boost revolving credit moving forward. Consumers are also becoming more comfortable with increasing debt. In November, the ratio of consumer credit to disposable income increased by 0.1 percentage point to 25.1%. The long-run average (since 1995) ratio is 22.9%.
As the Fed prepares to increase interest rates, we may see a change in the composition of debt as the year progresses. Additionally, higher interest rates, which would result in higher borrowing costs for consumers might also act to constrain credit growth and incentivize saving. (Kimberly Ritter-Martinez)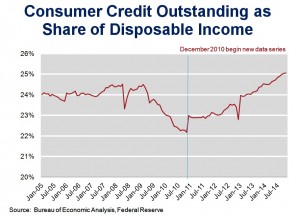 Source: Federal Reserve
Events of Interest
SAVE THE DATE!
Location: L.A. Downtown Hotel; 333 S. Figueroa St., Los Angeles 90071
LAEDC's Economic Forecast is our region's most established and valuable event offering intelligence about our business and jobs climate.
Join LAEDC Chief Economist, expert speakers, and hundreds of leaders as we present the 2015-2016 forecast for LA County, our region, and the U.S. This year, the event's focus is on our regional tourism and hospitality industry cluster, the challenges and opportunities it faces and the forecast for growth in the industry. Because this industry factors into the success of so many sectors – from entertainment to arts and culture, from international trade to Foreign Direct Investment, we encourage you to sponsor and attend.