v.18 n. 51 – Released December 30, 2014
This Week's Headlines:
Events of Interest

February 18, 2015: LAEDC Economic Forecast Event Featuring Tourism and Hospitality
Personal Income and Spending Accelerates in November
Total personal income gained momentum in November, climbing by 0.4%. The October figure was also revised up from 0.2% to 0.3%.
Total wages and salaries, the largest component of personal income for most people, increased by 0.5% ($40.6 billion) over the month. The increase was the result of employment gains and a longer workweek. Wages in private goods producing industries posted a strong increase, up 0.6% or $7.3 billion; wages in the service sector also rose by 0.6% or $31.5 billion. Wage and salary growth in the public sector continues to lag behind private sector industries, edging up by just 0.1% ($1.8 billion) over the month. Government transfers (social security, Medicare, Medicaid, unemployment insurance, veterans' benefits) were flat in November.
Real disposable income (adjusted for taxes and inflation) rose by 0.5% in November. Real personal consumption expenditures increased by 0.7% after rising by 0.2% in October. With consumption outpacing income growth, the personal saving rate fell from 4.6% in October to 4.4% in November. Year-to-date, the saving rate has averaged 4.8%.
Real consumer spending on durable goods shot up by 2.3% in November while spending on nondurables rose by 1.0%.
On a year-to-year basis:
Real disposable income was up by 2.9%
Real personal consumption expenditures increased by 2.8%
Growth in real spending on goods (4.4%) outpaced spending on services (2.1%)
Consumer prices fell over the month by 0.2%, but were flat excluding food and energy. Food prices edged higher by 0.3% but energy goods and services dropped by 4.0%. Over the year, consumer price inflation was just 1.2%.
Low inflation and falling energy prices are giving consumers more purchasing power. Taken together with rising employment and the longer workweek, consumer spending in the fourth quarter should close out the year on a high note. (Kimberly Ritter-Martinez)
Source: US Bureau of Economic Analysis
Census Bureau Projects U.S. and World Populations on New Year's Day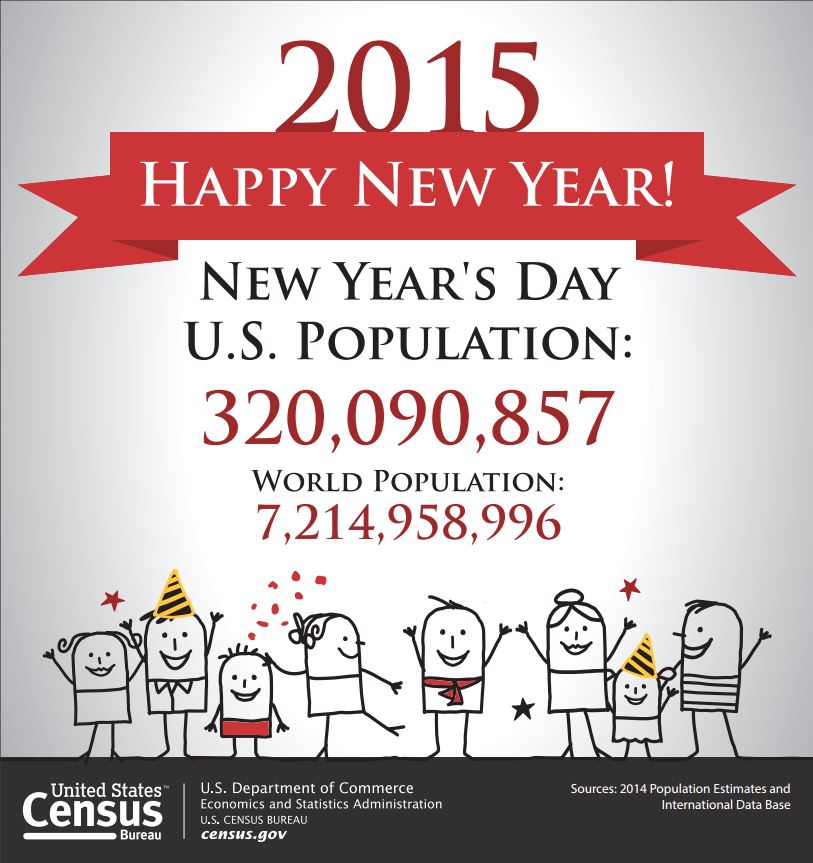 Source: US Census Bureau
Events of Interest
SAVE THE DATE!
Location: L.A. Downtown Hotel; 333 S. Figueroa St., Los Angeles 90071
LAEDC's Economic Forecast is our region's most established and valuable event offering intelligence about our business and jobs climate.
Join LAEDC Chief Economist, expert speakers, and hundreds of leaders as we present the 2015-2016 forecast for LA County, our region, and the U.S. This year, the event's focus is on our regional tourism and hospitality industry cluster, the challenges and opportunities it faces and the forecast for growth in the industry. Because this industry factors into the success of so many sectors – from entertainment to arts and culture, from international trade to Foreign Direct Investment, we encourage you to sponsor and attend.