v.18 n. 50 – Released December 22, 2014
This Week's Headlines:
November State and Local Employment Report
The Employment Development Department (EDD) released the state and local employment reports for the month of November. Total California nonfarm employment increased by 90,100 jobs over the month measured in seasonally adjusted (SA) terms. This followed a gain of 34,300 jobs (revised) in October. In nonseasonally adjusted terms, the state added 115,500 jobs last month, over half of which were in retail trade – a reflection of the strong seasonal factors affecting employment in this sector.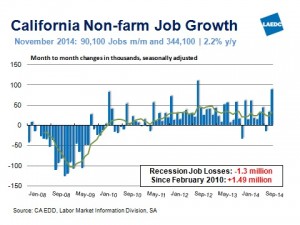 The year-over-year change showed an increase of 344,100 jobs (SA). This equated to a growth rate of 2.2%, topping the November national increase in nonfarm jobs of 2.0%. California's private sector added 347,500 jobs (an increase of 2.7%) over the year, while employment in the public sector edged down by 0.1% (3,400 jobs).
Nine of the 11 super-sectors added jobs over the year to November: mining and logging; construction; manufacturing; trade, transportation and utilities; information; financial activities; professional and business services; educational and health services; and leisure and hospitality for a gain of 348,100 jobs. Professional and business services posted the largest gain on a numerical basis, adding 119,400 jobs over the year (up by 5.1%). Construction posted the largest percentage gain, with the number of payroll jobs increasing by 6.3% (40.800 jobs).
The only two sectors to post a decline in jobs last month were government and other services, which gave up 600 jobs.
California's unemployment rate fell to 7.2% in November, down from 7.3% in October and down from the year ago rate of 8.4%. The state's unemployment rate is now below the long-run average unemployment rate of 7.7%. California's civilian labor force increased by 0.3% over the month and by 1.4% over the year. This means the unemployment rate in California is falling because the state is adding jobs more quickly than the labor force is growing. The state's labor force participation rate is currently 62.3%, slightly lower than the national rate of 62.8%.
County highlights:
(Note: With the exception of the Los Angeles unemployment rate, county level numbers are not seasonally adjusted, which means there can be large month-to-month fluctuations in jobs counts. A truer picture of how local labor markets are faring is revealed by focusing on the year-over-year numbers. Annual trends "correct" for the seasonal factors that influence certain industry sectors over the course of the year.)

In Los Angeles County, the seasonally adjusted unemployment rate was 8.0%, the same as October but was down from 9.4% a year ago. Total nonfarm employment rose by 29,400 jobs over the month and by 60,000 jobs over the year, an increase of 1.4%.

Educational and health services posted the largest year-over gain last month with an increase of 22,900 jobs. Accounting for 83% of that gain was health care and social assistance, which has added 19,000 jobs over the past 12 months.

Also posting solid employment growth was professional and business services with a gain of 21,800 jobs. Administrative, support and waste services expanded employment by 11,000 jobs, with most of the balance in professional, scientific, and technical services (7,800 jobs). Leisure and hospitality added 10,200 jobs over the year.

The largest job declines where in the manufacturing sector. Nondurable goods was down by 6,500 jobs and durable goods fell by 4,000 jobs. By manufacturing subsector, the largest payroll reductions were in apparel manufacturing (down 3,300 jobs), and computer and electronic products (down 2,100 jobs). There were also job declines in government (down 3,300 jobs) and wholesale trade (down 200 jobs).

In November, the unemployment rate in Orange County was 5.0%, unchanged from October but below the year-ago figure of 5.8%. Nonfarm payrolls increased by 9,000 jobs over the month and by 32,200 over the year (an increase of 2.2%).
In the Riverside-San Bernardino area, the unemployment rate in November was 8.0%, compared with 8.1% in October and was well below the year ago rate of 9.3%. Nonfarm payrolls increased by 15,400 jobs over the month and were up by 27,500 jobs over the year. This represented an increase of 2.2%.
In Ventura County, the unemployment rate was 6.5%; down from the year ago estimate of 7.3%. Last month, total nonfarm employment increased by 1,700 jobs. Over the year ending in November, the number of nonfarm jobs in Ventura County was up by 5,400 (up 1.9%).
Summary: The California labor market accelerated in November, with the largest monthly job gain of any state. Momentum should continue into next year and help to bring down the state unemployment rate, which improved a great deal over the past year but is still quite high compared to the nation as a whole. (Kimberly Ritter-Martinez)
Source: California EDD
California Home Sales and Median Prices in November
The California Association of Realtors released their report on California existing home sales and median prices in November. The statewide median price rose over the 12 months ending in November by 5.2% to $445,280. Compared with October the median prices slipped by 1.1%.
In the Los Angeles Metro area, the median price was also up by 5.2% over the year, climbing to $417,270 in November. In the San Francisco Bay area, prices increased by 8.1% to $748,870.
Statewide, the number of single-family homes that closed escrow in November was down by 3.4% over the year to 376,480 units (seasonally adjusted, annualized rate). Compared with October, sales fell by 5.3%.
Mortgage interest rates fell again in November, but did little to counter affordability concerns and boost sales among would-be buyers. The average 30-year fixed rate was 4.00%, down from 4.04% in October and 4.26% a year ago. In addition to declining affordability, the lack of inventory at the lower end of the price spectrum has also been an impediment, especially for first time buyers and younger households.
Here is a year-over-year summary of sales and price activity in Southern California by county. Sales were down across the region while prices continued to climb.
Los Angeles County: unit sales were down by 9.4% over the year in November while the median price increased by 7.1% to $433,850.
Orange County: sales declined by 5.7% last month but the median price continued to trend up – rising by 4.3% to $689,480.
Riverside County: sales of existing homes declined by 6.9%; the median price rose by 4.7% to $320,880.
San Bernardino County: sales edged down by 0.8% in November; the median price rose by 11.1% to $213,780.
San Diego County: unit sales dropped by 13.2% but the median price increased by 3.9% to $491,690.
Ventura County: existing home sales declined by 4.7%, while the median price inched up by just 1.1% to $549,440.
Source: California Association of REALTORS
State Personal Income in the Third Quarter
The Bureau of Economic Analysis recently published a state-by-state report of personal income growth during the third quarter of 2014. Across all the states, personal income growth averaged 1.0% during the third quarter, down from 1.2% in the previous quarter. Inflation, as measured by the national price index for personal consumption expenditures, was 0.3% during the third quarter.
Personal income growth, which includes net earnings, property income and personal current transfer receipts, slowed in 38 states. The percent changes ranged from a decline of 0.2% in South Dakota (the only state with a decline ) to an increase 1.4% in Texas (seasonally adjusted quarterly rate). Personal income grew fastest in: Texas, New Mexico (1.3%), Utah (1.3%), Arizona (1.3%), and Nevada (1.2%).
California ranked twentieth with an increase of 1.0% compared with 1.4% in the second quarter. By income component, net earnings in California were up by 0.7%; dividends, interest and rental income grew by 0.9% and transfer receipts increased by 2.0%.
By industry sector, the largest contributions to California's 0.7% gain in net earnings came from professional, scientific and technical services (0.1 percentage point); information (0.09 pp); health care and social assistance (0.08 pp); real estate, rental and leasing (0.06 pp); and administrative, support and waste services (0.05 pp).
Across the nation, earnings grew in 21 of 24 industries. The industries that contributed the most to net earnings were health care ($12.3 trillion); professional scientific and technical services ($12.0 trillion); and construction ($8.5 trillion). The industries that experienced a decline in earnings were farming, the military and forestry. Nationwide, total net earnings were $85.8 trillion in the third quarter.
Health care earnings growth topped all other industries in 19 states, while gains in the professional services industry were the largest in eight states. Construction earnings contributed the most in three states. In Alaska, North Dakota, Oklahoma, Texas and Wyoming, the mining industry (which includes oil and gas extraction) contributed the most to third-quarter earnings growth.
Income growth, particularly gains in wages and salaries, has been weak through the recovery period, affecting consumer spending and impeding recovery in the housing market. Hopefully, the faster pace of job growth over the past year and further acceleration in 2015 will put upward pressure on wages, enabling households to increase spending and prompt additional economic growth. (Kimberly Ritter-Martinez)
Source: US Bureau of Economic Analysis
U.S. Travel and Tourism Spending Slows in 3Q14
Real spending on travel and tourism was up by 1.3% (seasonally adjusted annualized rate) during the third quarter. This followed an increase of 3.3% (revised up from 2.1%) in the second quarter. The Bureau of Economic Analysis tracks the travel and tourism industry in the United States because it is an important source of jobs and economic activity, particularly here in Southern California. Additionally, foreign visitors traveling to the U.S. are in important source of export revenue.
Total direct spending on travel-related goods and services was $780.8 billion during the third quarter of this year compared with $778.3 billion in the previous quarter. Spending on travel-related goods and services equated to nearly five percent of total U.S. gross domestic product.
Spending on traveler accommodations jumped by 8.3%. Additional gains were recorded at restaurants and bars (4.4%), and tourism-related shopping (2.4%). Largely offsetting these advances, however, were declines in passenger air transportation (-7.2%), and recreation and entertainment (-5.5%).
Overall prices for travel and tourism goods and services edged up by just 0.6% in the third quarter after rising by 6.6% in the second quarter. There were some sectors that posted much stronger price gains: passenger air transportation (5.0%); restaurants and bars (3.0%); and shopping (2.2%). Elsewhere, there was sharp drop in "other" transportation-related commodities (-4.7%), which includes gasoline and rental cars.
The travel and tourism industry has been a source of steady job growth since the second quarter of 2010. Direct employment in this sector increased by 1.7% during the third quarter of 2014 after expanding by 1.9% in the previous quarter. Transportation employment rose by 2.9%; jobs at restaurants and bars also increased by 2.9%, while jobs in the recreation, entertainment and shopping sectors were collectively up by 0.9%. During the third quarter, nearly 5.5 million workers were employed in the U.S. travel and tourism industry, which equated to about four percent of all nonfarm payroll jobs in the U.S.
(Kimberly Ritter-Martinez)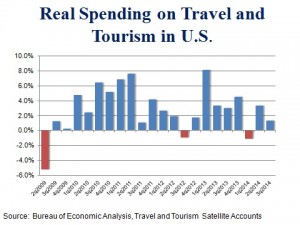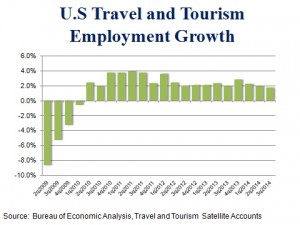 Source: US Bureau of Economic Analysis
Events of Interest
SAVE THE DATE!
Location: L.A. Downtown Hotel; 333 S. Figueroa St., Los Angeles 90071
LAEDC's Economic Forecast is our region's most established and valuable event offering intelligence about our business and jobs climate.
Join LAEDC Chief Economist, expert speakers, and hundreds of leaders as we present the 2015-2016 forecast for LA County, our region, and the U.S. This year, the event's focus is on our regional tourism and hospitality industry cluster, the challenges and opportunities it faces and the forecast for growth in the industry. Because this industry factors into the success of so many sectors – from entertainment to arts and culture, from international trade to Foreign Direct Investment, we encourage you to sponsor and attend.