v.18 n. 48 – Released December 10, 2014
This Week's Headlines:
November Job Report: Largest Monthly Gain in Over Two Years
The U.S. Labor Market Report covering the national employment situation in November exceeded expectations. The labor market added 321,000 jobs last month, the largest monthly job gain in over two and a half years. The unemployment rate held steady at 5.8%. Average hourly earnings on private nonfarm payrolls were $24.66 in November, up by $0.09 from October. Over the year, average hourly earnings have risen by 2.1%, while the average workweek rose by 0.1 hour to 34.6 hours. Hourly earnings have only slightly outpaced inflation, which has averaged 1.7% YTD through October, but the increase in the number of hours worked is helping to boost weekly earnings.
The employer payroll survey reported that total nonfarm employment in the United States increased by 321,000 jobs in November. The change in September employment was revised up from 256,000 jobs added to 271,000, and the change in October was revised from 214,000 jobs to 243,000. With these revisions, employment gains in September and August were 44,000 more than previously reported. Incorporating these revisions, monthly job gains have averaged 241,000 year-to-date compared with the 204,000 monthly gain for the same period last year.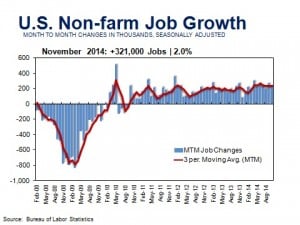 On a year-to-year (YTY) basis, U.S. employment expanded by 2.73 million jobs, an increase of 2.0%. Every major industry sector, including government, added jobs over the year and over the month. On a YTY basis, the fastest growing sectors were: mining and logging (5.0% or 44,000 jobs); administrative, waste and support services (4.7%, 397,300 jobs); construction (3.6%, 213,000 jobs); professional and technical services (3.1%, 258,000 jobs); and transportation and warehousing (3.1%, 142,500 jobs). The manufacturing sector also posted an increase in employment – jobs in durable goods were up by 2.1% or 158,000, while employment in nondurable goods edged up by 0.3% or 13,000 jobs.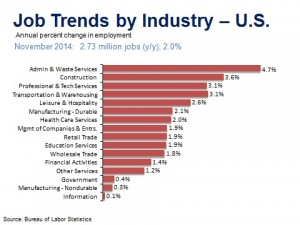 The percentage of long-term unemployed (over 27 weeks) was down significantly over the year. Last month 30.7% of all unemployed persons have been out of work more than six months, compared with 32.0% in October and 37.4% in November of last year. In numerical terms, the number of long-term unemployed was down by 1.23 million people over the year and by 101,000 over the month. The mean duration of unemployment is currently 33.0 weeks, while the median is just 12.8 weeks. The still-large number of long-term unemployed is skewing the average duration to the right so the median better illustrates the length of unemployment most people can be expect to endure. A year ago, the median duration of unemployment was 17.0 weeks.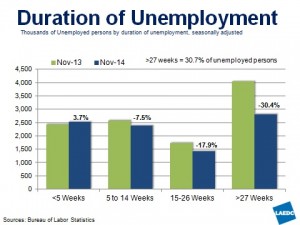 The labor force participation rate held steady at 62.8% for the second month in a row, but was down from 63.0% a year ago. The U.S. labor force has increased on average by 0.3% YTY over the first 11 months of this year and has grown in all but two months. So far this year, the labor force participation rate was averaged 62.9%. By comparison, the annual rate of labor force participation was at 66% prior to the recession; it fell to 63.7% two years ago in 2012, and was 63.3% in 2013.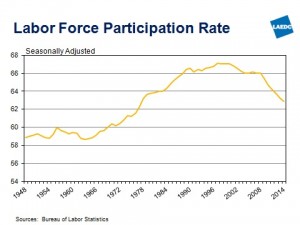 Summary: The November Labor Market Report was a good sign for the U.S. economy as the end of the year approaches. Economic growth during the last two quarters averaged 4.3%, and is expected to remain strong over the next four quarters. This should encourage more people to return to the labor force and step up pressure on wages and the number of hours worked. (Kimberly Ritter-Martinez)
Source: US Bureau of Labor Statistics
U.S. Car and Light Truck Sales in November
Light vehicle sales in November were up by 5.5% over the year to 17.1 million units (seasonally adjusted annual rate), the fastest pace of growth since January 2006. On a per unit volume level, 1.3 million cars and light trucks were sold. This was the highest November volume reading in 13 years.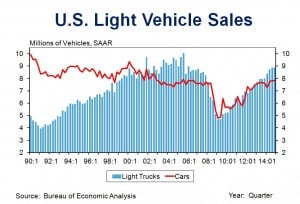 Total passenger car sales, including foreign and domestic models were up by just 0.8% to 7.9 million units. Sales of domestic models were relatively strong, but the decline in foreign models pulled down the total gain.
Sales of domestic autos rose by 6.5% over the year to 5.9 million units
Foreign auto sales plunged by 13.4% to 2.0 million units
Compared with October, total passenger car sales were up by 2.2%
Declining fuel prices are boosting sales of foreign and domestic light trucks, especially crossover utility vehicles. Sales were up by 10.0% over the year to 9.2 million units and accounted for 54% of the sales mix last month (the long-run average is 51.4%). With gasoline prices expected to continue falling through 2015, light truck sales should maintain their current momentum.
Sales of domestic trucks increased by 11.5% over the year to 7.8 million units
Foreign light truck sales, a much smaller segment of the U.S. truck market, were up by 2.3% over the year to 1.4 million units
Compared with October, sales of trucks and SUVs rose by 6.6%
Sales of medium-heavy trucks, used primarily by businesses to haul freight and make deliveries, surged in November, increasing by 26.3% over the year to 461,000 units. In October medium-heavy trucks were selling at an annual rate of 429,000 units.
In addition to lower fuel prices, month-end "Black Friday" deals and incentives drove buyers to dealer show rooms in November. Positive credit conditions, rising consumer confidence and more optimistic economic news have auto manufacturers and dealers looking forward to another upbeat year in 2015. (Kimberly Ritter-Martinez)
Source: US Bureau of Economic Analysis
Consumer Borrowing Just Okay in October
Total consumer credit outstanding (all non-mortgage debt) increased by 4.9% ($13.2 billion) over the month in October to $3.28 trillion (seasonally adjusted annualized rate). Over the 12 months ending in October, total consumer credit was up by 6.7%.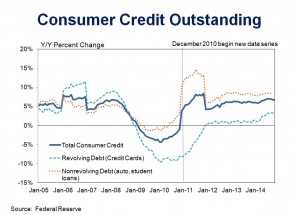 Non-revolving debt, which is primarily composed of credit for new automobiles and student loans, rose by 6.2% last month or $12.35 billion and by 8.1% over the year, consistent with recent growth rates. Auto lending has expanded very quickly in recent quarters, but a disturbing rise in default rates for auto loans could curb additional growth in the auto lending market if lenders tighten lending standards.
Revolving debt (mainly credit cards) expanded by 1.3% ($1.0 billion). Over the 12 months ending in October, revolving credit was up by just 3.1%. Consumers have been cautious in their use of credit cards to finance consumption since the onset of the recession, but with holiday retail sales expected to be up this year, shoppers may be more willing to use credit cards to support their holiday spending.
The growth of consumer credit in October fell somewhat short of expectations. Given the upward revision to economic growth from consumer spending in the third quarter, and the upward revision of October job counts in November's Labor market report, the slower rate of credit expansion relative to recent months came as a surprise. Even so, consumer credit is growing at a healthy rate. On a year-to-year basis, consumer credit has expanded by an average of $18.1 billion per month compared to $14.5 billion and $14.0 billion in 2013 and 2012 respectively. (Kimberly Ritter-Martinez)
Source: Federal Reserve
Events of Interest
SAVE THE DATE!
Location: L.A. Downtown Hotel; 333 S. Figueroa St., Los Angeles 90071
LAEDC's Economic Forecast is our region's most established and valuable event offering intelligence about our business and jobs climate.
Join LAEDC Chief Economist, expert speakers, and hundreds of leaders as we present the 2015-2016 forecast for LA County, our region, and the U.S. This year, the event's focus is on our regional tourism and hospitality industry cluster, the challenges and opportunities it faces and the forecast for growth in the industry. Because this industry factors into the success of so many sectors – from entertainment to arts and culture, from international trade to Foreign Direct Investment, we encourage you to sponsor and attend.