v.18 n. 46 – Released November 25, 2014
This Week's Headlines:
Events of Interest

December 4, 2014: Doing Business in China, Japan and Korea Conference
February 18, 2015: LAEDC Economic Forecast Event Featuring Tourism and Hospitality
October State and Local Employment Report
The Employment Development Department (EDD) released the state and local employment reports for the month of October. Total California nonfarm employment increased by 41,500 jobs over the month measured in seasonally adjusted (SA) terms. This followed a loss of 14,200 jobs (revised) in September. In nonseasonally adjusted terms, the state added 156,800 jobs last month, nearly half of which were in the government sector.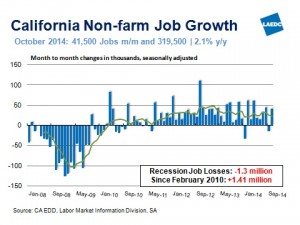 The year-over-year change showed an increase of 319,500 jobs (SA). This equates to a growth rate of 2.1%, topping the October national increase in nonfarm jobs of 1.9%. California's private sector added 314,000 jobs (an increase of 2.4%) over the year, while employment in the public sector edged up by 0.2% (5,500 jobs).
Ten of the 11 super-sectors added jobs over the year to October: mining and logging; construction; manufacturing; trade, transportation and utilities; information; professional and business services; educational and health services; leisure and hospitality; other services; and government for a gain of 324,200 jobs. Professional and business services posted the largest gain on a numerical basis, adding 106,400 jobs over the year (up by 4.5%). Construction posted the largest percentage gain, with the number of payroll jobs increasing by 5.3% (34,300 jobs).
The only sector to post a decline in jobs last month was financial services, which gave up by 4,700 jobs (-0.6%) over the year.
California's unemployment rate remained unchanged at 7.3% in October, but was down from the year ago rate of 8.6%. The State's unemployment rate is now below the long-run average unemployment rate of 7.7%. California's civilian labor force increased by 0.5% over the month and by 1.0% over the year. This means the unemployment rate in California is falling because the state is adding jobs more quickly than the labor force is growing.
County highlights:
(Note: With the exception of the Los Angeles unemployment rate, county level numbers are not seasonally adjusted, which means there can be large month-to-month fluctuations in jobs counts. A truer picture of how local labor markets are faring is revealed by focusing on the year-over-year numbers. Annual trends "correct" for the seasonal factors that influence certain industry sectors over the course of the year.)
In Los Angeles County, the seasonally adjusted unemployment rate was 8.0%, the same as September but was down from 8.6% a year ago. Total nonfarm employment rose by 35,000 jobs over the month and by 56,900 jobs over the year, an increase of 1.4%.

Professional and business services posted the largest year-over gain last month with an increase of 26,200 jobs. Half of those new jobs (13,100) were in administrative, support and waste services, with the balance in professional, scientific and technical services (9,800 jobs), and management of companies and enterprises (3,300 jobs).

Health care and social assistance added 19,200 jobs over the year, while retail trade increased by 9,000 jobs. Leisure and hospitality employment was up by 6,300 jobs; construction payrolls expanded by 5,000 jobs. Information added 5,900 jobs. Within the information sector, motion picture and sound recording added 5,700 jobs, an increase of 4.4% over the year.

The largest job declines where in the manufacturing sector. Nondurable goods was down by 10,800 jobs and durable goods fell by 3,100 jobs. By manufacturing subsector, the largest payroll reductions were in apparel manufacturing (down 5,000 jobs), and computer and electronic products (down 2,200 jobs). There were also job declines in government (down 4,200 jobs) and financial activities (down 400 jobs).

In October, the unemployment rate in Orange County was 5.0%, down from 5.1% in September and below the year-ago figure of 6.1%. Nonfarm payrolls increased by 15,800 jobs over the month and by 30,300 over the year (an increase of 2.1%).


In the Riverside-San Bernardino area, the unemployment rate in October was 8.1%, compared with 8.2% in September and was well below the year ago rate of 9.9%. Nonfarm payrolls increased by 17,500 jobs over the month and were up by 29,700 jobs over the year. This represented an increase of 2.4%, making the Inland Empire one of the faster growing metro areas in California.


In Ventura County, the unemployment rate was 6.3%; down from the year ago estimate of 7.0%. Last month, total nonfarm employment increased by 3,300 jobs. Over the year ending in October, the number of nonfarm jobs in Ventura County was up by 6,800 (up 2.3%).
Summary: Southern California's labor markets continue to improve. Local unemployment rates are approaching long-run averages. The rate of job creation in many counties appears to be accelerating and if current trends remain intact, Southern California should recover all the jobs lost during the recession by mid-2015 – a milestone that is considerably overdue for the region. Health care, professional business services, and leisure and hospitality were among the region's fastest growing employment sectors. (Kimberly Ritter-Martinez)
Source: California Employment Development Department
California Home Sales and Median Prices in October
The California Association of Realtors released their report on California existing home sales and median prices in October. The statewide median price rose over the 12 months ending in October by 5.4% to $450,620. Compared with September, however, the median price declined by 2.3%.
In the Los Angeles Metro area, the median price was up by 5.2% over the year to $412,860, while in the San Francisco Bay area, prices climbed by 13.3% to $760,610.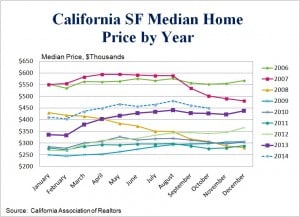 Statewide, the number of single-family homes that closed escrow in October was down by 1.9% over the year to 396,220 units (seasonally adjusted, annualized rate), but was unchanged over the month.
Mortgage interest rates fell again in October. The average 30-year fixed rate was 4.04%, down from 4.16% in September and 4.19% a year ago. October's average rate was the lowest since May 2013 just prior to the Federal Reserve announcing its intention to begin tapering its bond-buying program. Unfortunately, many potential buyers have been unable to take advantage of current low interest rates, either because they cannot to come up with a down payment or because they are unable to qualify for a loan. A lack of inventory at the lower end of the price spectrum has also been an impediment, especially for first time buyers.
Here is a year-over-year summary of sales and price activity in Southern California by county. Sales were down across most of the region while prices continue to climb.

Los Angeles County: unit sales were down by 5.4% over the year in October while the median price increased by 6.8% to $477,600.


Orange County: sales edged lower by 0.8% last month but the median price continued to trend up – rising by 4.9% to $692,390.


Riverside County: sales of existing homes declined by 1.0%; the median price rose by 8.8% to $322,700.


San Bernardino County: sales were up by 5.6% in October; matching the rate of increase in Riverside County (8.8%), the median price rose to $208,080.


San Diego County: unit sales dropped by 6.8% but the median price increased by 3.3% to $493,030.


Ventura County: existing home sales declined by 3.5%, while the median price rose by 8.4% to $583,810.

Source: California Association of REALTORS

Events of Interest

Location: Los Angeles Area Chamber of Commerce; 350 S. Bixel St., Los Angeles 90071

Pease join us at the Los Angeles Area Chamber of Commerce for our Doing Business in China, Japan and Korea conference. Our goal is to increase the amounts of food and food related products exported to these countries. We will be highlighting various trade and finance resources available to U.S. Exporters and their buyers in the Pacific Rim. This conference will feature Keynote Speaker, Ms. Holly Vineyard, International Trade Administration's Deputy Assistance Secretary for Asia. Ms. Vineyard has an extensive history of working with U.S. companies to increase their international market share. Public and private sector speakers with many years of experience of working in not only Korea, Japan and China but the other countries throughout the Pacific Rim, will also be featured during the conference. This event is partially supported through a U.S. Department of Commerce, MDCP award.

Location: L.A. Downtown Hotel; 333 S. Figueroa St., Los Angeles 90071

LAEDC's Economic Forecast is our region's most established and valuable event offering intelligence about our business and jobs climate.

Join LAEDC Chief Economist, expert speakers, and hundreds of leaders as we present the 2015-2016 forecast for LA County, our region, and the U.S. This year, the event's focus is on our regional tourism and hospitality industry cluster, the challenges and opportunities it faces and the forecast for growth in the industry. Because this industry factors into the success of so many sectors – from entertainment to arts and culture, from international trade to Foreign Direct Investment, we encourage you to sponsor and attend.