v.18 n. 45 – Released November 19, 2014
This Week's Headlines:
SoCal Home Sales and Median Prices in October
Southern California home sales fell by 4.4% in October to 19,271 units (new and resale house and condominiums). Home sales in the region have fallen in 12 of the last 13 months and were the slowest for the month of October in three years. Investors and cash buyers are pulling back and traditional first-time buyers have not stepped in to pick up the slack.
The median price across Southern California increased by 6.8% to $410,000 over the year, but this was the slowest rate of increase in 28 months. Only Orange County managed to eke a double-digit price gain (10.2%). Prices are still rising, but the rate of increase has slowed substantially. In September, for the first time in two years, price gains throughout the six-county region failed to reach into the double-digits.
Affordability has become a major issue for many potential home buyers. Tighter mortgage underwriting standards also continue to constrain home sales. Many would-be first time buyers are discouraged from even trying to apply for a mortgage. Rising rental rates are also making it more difficult for people who currently rent to save for a down payment, one of the single biggest barriers to buying a home for most people. Low inventories present a problem as well. Even after over two years of price gains, many existing homeowners still do not have enough equity to purchase their next home.
Other variables affecting demand for home ownership include delayed household formation – young people express the desire to own a home at roughly the same rates as previous generations, but they are living on a delayed time-line. The current generation of twenty-somethings are staying in school longer, entering the workforce at a later age, and holding off on marriage and children. Also, even though the labor markets are continuing to improve, there has been a persistent weakness in wage gains – too many people are underemployed or working multiple part-time jobs.
Better job and wage growth to promote household formation and reforms in the mortgage lending industry to expand the pool of buyers are important components to a full recovery of the national and Southern California housing markets.
(Kimberly Ritter-Martinez)

Source: DQ News
California Financial Report for October
The State Controller's office has released the October financial report for the California General Fund. Four months into the new fiscal year (2014-15), total receipts were up by 10.2% to $28.4 billion compared with the same period last year. Total disbursements ($48.1 billion) increased by 15.4% over the same period, exceeding receipts by nearly $19.7 billion. As of October 31, the state's cash balance stood at -$17.8 billion.
Although there was a wide gap between disbursements and receipts, the state's budget performance exceeded expectations based on cash flow estimates prepared by the Department of Finance. So far this year, total disbursements were running below expectations by 2.2%, while total receipts were 5.4% higher than forecasted.
Total revenues (receipts from taxes, licenses, fees or investment earnings) were up by 9.4% to $27.9 billion compared with the first four months of the previous fiscal year. The largest contributions (over 94%) to the state's General Fund come from personal income taxes, retail sales and use taxes, and corporate income taxes.

In October (fiscal year-to-date), personal income taxes increased by 11.3% to $18.8 billion, beating expectations by 5.6%.


Corporate income taxes raced past projections by 63.2% rising by 50.0% to $1.9 billion compared with the same period last year.


Revenue from sales and use taxes continues to disappoint. Although up fiscal year-to-date by 0.2% to $6.1 billion, revenues missed projections by 7.0%. Either Californians are not shopping as much as anticipated or they are buying goods and services not subject to California sales tax.
The schedule of cash disbursements in the Controller's report showed that expenditures on Local K-12 Education were $16.5 billion during the first four months of the fiscal year, which was down by 2.6% compared with the previous year. Disbursements to Community Colleges also declined, falling by 1.0% to $2.0 billion. In contrast, funds received by the UC and CSU systems shot up by 50.4% to $1.9 billion. Contributions to CalSTRS (the state teachers' pension fund) increased by 10.6% to $743 million.
Spending for the Department of Corrections rose by 8.8% to $3.2 billion, while outlays for Health and Human Services increased by 63.9% to $1.4 billion. The amount the state paid to service its debt obligation increased by 27.4% to $1.9 billion (debt service amounts are net of offsets such as federal subsidies and reimbursements from other sources).
As of October 31, the General Fund had $29.5 billion in borrowable resources against $17.8 in outstanding loans. The loan balance is comprised of $15.0 billion in internal borrowing and $2.8 billion of external borrowing in the form of revenue anticipation notes (RANs).
California's fiscal position is still positive. Revenues are coming in higher than expected and spending has been held in check. While timing differences between receipts and outlays generally mean a cash deficit for the first four months of the fiscal year, the deficit is $2.6 billion is below expectations. In another positive development for the state, the day after the voters passed Proposition 2 (California's rainy day fund), the state received a boost in its credit rating – S&P raised the state's credit rating from A to A+.
(Kimberly Ritter-Martinez)
Consumer Borrowing Stronger in September
Total consumer credit outstanding (all non-mortgage debt) increased by 5.9% ($15.9 billion) over the month in September to $3.27 trillion (seasonally adjusted annualized rate). Additionally, the August increase was revised up from 5.0% to 5.2%. Over the 12 months ending in September, total consumer credit was up by 6.9%.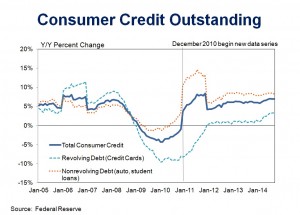 Non-revolving debt, which is primarily composed of credit for new automobiles and student loans, rose by 7.3% last month or $14.5 billion and by 8.3% over the year.
While the gain in total consumer borrowing last month was mostly the result of an increase in non-revolving debt, it appears revolving credit picked up a little steam. In September, revolving debt (mainly credit cards) rose by 2.0% ($1.5 billion) after edging down by 0.2% in August. Over the 12 months ending in September, revolving credit was up by just 3.3%.
Since the end of the recession, gains in consumer credit have been concentrated in non-revolving credit. A lot of that growth has come from loans for new cars. Auto lending rates have been extremely low, a strong incentive for people to visit a dealer showroom and drive home in a new car or truck. However, since interest rates on auto loans tend move with the Fed Funds rate, purchases of new cars could slow by the middle of next year if the Fed, as is expected, begins to move on hiking short-term interest rates.
Meanwhile, expansion of revolving credit, which is made up of discretionary purchases on credit cards, has been muted since the end of the recession. Over the last five years, year-over-year growth rates of revolving credit have been well below what was typical during the early 2000s. But recent increases in consumer confidence may be an indication that consumers are becoming more comfortable using their credit cards even if they have to let balances accumulate. The rising ratio of household debt to disposable income could be one indication of this new level comfort – in September, household debt rose to 24.9% of disposable income. The holiday shopping season will provide another window into the soul of the American consumer. Holiday retail sales are expected be up by 4.1% over last year with much of that increase expected to be financed by credit cards. (Kimberly Ritter-Martinez)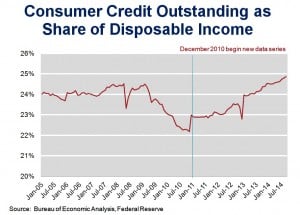 Fed Survey Reports Positive Business and Consumer Credit Trends
The Federal Reserve recently released results for the October 2014 Senior Loan Officer Survey on Bank Lending Practices. This survey addresses changes in the supply of, and demand for, bank loans to businesses and households during the past three months.
Recent data from the October survey indicated only a moderate increase in both the supply of and demand for business and consumer loans compared with the July survey. Changes in borrowing by businesses and consumers to finance investment and consumption are an indication of confidence levels and the relative strength of the economy. Banks in general have been easing lending standards for several years and demand has consistently trended upward since the end of the recession.
A modest percentage of domestic banks eased their lending standards for commercial and industrial (C&I) loans for firms of all sizes. These standards include interest rate spreads, the cost of credit lines, interest rate floors and premiums charged on riskier loans. A moderate number of banks also reported experiencing stronger demand for C&I loans and an increase in the number of inquiries from potential business borrowers looking for new credit lines or increases in existing credit lines.
Standards for commercial real estate loans are slowly continuing to ease as well, particularly for construction and land development loans. Standards for loans secured by nonfarm nonresidential structures and multifamily residential properties remained largely unchanged over the last three months. Demand for commercial real estate loans was also stronger in the October survey.
On the household side, a moderate percentage of large banks reported relaxing standards on prime residential mortgages, while smaller banks reported no change over the last three months. Signals for mortgage lending were somewhat mixed – large banks reported a fall in demand for residential mortgages but smaller banks reported they experienced an increase in demand. Few banks reported easing standards on home equity lines of credit but there was also little change in demand.
Only a small fraction of banks indicated they were more willing to make consumer installment loans and very few banks reported easing standards for approving credit card applications. Standards for auto loans were mostly unchanged, but loans for new vehicles have been relatively easy to obtain.
Although the overall pace of improvement in the credit markets slowed during the most recent quarter, the trend on both the business and consumer sides remained positive. (Kimberly Ritter-Martinez)
Port Activity Slows in October
The total number of containers handled at the ports of Long Beach and Los Angeles in October increased by 3.0% on a year-over-year basis to 1,298,693 TEUs (twenty-foot equivalent units). At the Port of Los Angeles, total containers handled increased by 4.6% on a year-to-year basis, while container activity at the Port of Long Beach inched up by 1.1% from last year. The San Pedro Bay ports have been on a positive growth track for fourteen out of the last sixteen months, compared with only seven months of positive growth during the preceding fifteen months.
Imports (loaded inbound traffic) at the Port of Los Angeles climbed by 8.4% year-over-year, rising from 346,138 TEUs in October 2013 to 370,938 TEUs in October 2014. Meanwhile, imports at the Port of Long Beach rose by 4.7% over the same time period, increasing from 298,271 TEUs to 310,482 TEUs. Across both ports, the number of loaded inbound containers were up by 6.7% from last year.
Exports (loaded outbound traffic) at the Port of Los Angeles declined for the first time since February, falling by 6.7% from 169,568 TEUs in October 2013 to 158,182 TEUs in October 2014. Exports at the Port of Long Beach fell even more dramatically, with 120,445 loaded outbound TEUs (excluding empties) reported for October 2014, down 14.9% from 141,457 TEUs in October 2013. Export growth at the two ports (combined) slowed by 10.4% over the year.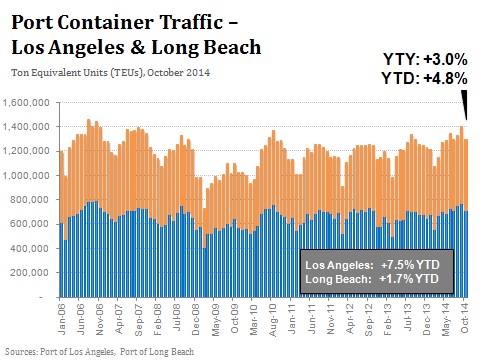 Bottom Line: The San Pedro Bay ports together saw imports grow by 6.0% year-to-date when compared to the same period of last year (January to October). On the other side of the ledger, exports remained largely unchanged, edging down by just by 0.1% year-to-date. Total loaded containers (imports and exports) expanded by 4.0% on a year-to-date basis. The upward trend should continue through the end of this year. The LAEDC forecasts the San Pedro Bay ports will handle 15.4 million containers this year, a 5.5% increase from 2013.
Port congestion has slowed container traffic during this critical peak shipping season. A cargo backlog due to a shortage of chassis, coupled with ongoing labor disputes, may have a significant impact on trade activity in the months ahead. Further delays will frustrate retailers nationwide and may affect not only current container volumes moving through the ports, but could also increase concerns about reliability and eventually encourage the use of other ports. (George Entis)
Source: Port of Long Beach