UPDATE 3/31/15:  L.A. County Board of Supervisors recognized Glendale and Glendora this week for their Eddy Award "Most Business Friendly Cities in LA County"  Congratulations again to both Cities, their Mayors and staff!
Glendale and Glendora Recognized as Los Angeles County's "Most Business-Friendly" Cities.
2014 LAEDC Eddy Awards also honor UCLA, Honda and Tony Pritzker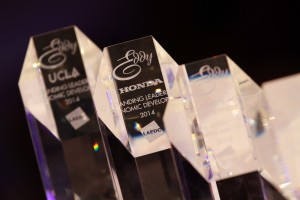 LOS ANGELES, CA – (November 13, 2014)  Tonight at the 19th annual Eddy Awards, the Los Angeles County Economic Development Corporation (LAEDC) recognized the City of Glendale as the Most Business Friendly City with a population greater than 65,000 and the City of Glendora as the Most Business Friendly City with a population under 65,000.
"This year's Most Business Friendly Cities, Glendale and Glendora, understand that communities and families thrive when good jobs are created, and job creation depends on business-friendly practices," said Bill Allen, LAEDC president and CEO. "The City of Glendale believes that every department and every employee is in the economic development business, and through this culture the City has fostered a low cost of doing business and  excellent customer service, a 24-hour callback policy, streamlined permitting, and  satisfaction surveys to ensure businesses agree that their needs are being met."
"Not to be outdone, the City of Glendora also keeps costs low for businesses, cuts red tape, and its successful business assistance program rewards startups and existing businesses for job creation, while the City's economic development staff visits hundreds of businesses to help them access city programs and workshops and inform them of available space to grow."
The winners were selected based on the following criteria:
Demonstrated commitment to economic development as a priority
Programs and services designed to facilitate business entry, expansion, and retention
Economic development activity over the past three years
Competitive business tax rates and fee structures
Availability of economic incentives
Effective communication with and about business clients
More details on the best practices of these cities can be found at http://laedc.org/eddy-awards
Photos of the honorees are available at https://www.flickr.com/photos/laedc/sets/72157648706426910
City of Glendale, 2014 Eddy Award winner in the population 65,000+ category:
For major business projects, the City of Glendale deploys its concierge service team which includes Economic Development, Planning, Building and Safety, Fire and Traffic departments. Economic Development is integrated in the City's General Plan, focusing on a diverse, sustainable and growing business base. Customer service includes ombudsman services, streamlined permitting, a successful and innovative film permit concierge service, and surveys to gauge business satisfaction. The City's commitment to cost reduction includes no business tax, low property taxes, flexible zoning, community benefit districts, and business energy solutions. Glendale was a "Most Business Friendly City in L.A. County" finalist in 2008, 2011 and 2012.
City of Glendora, 2014 Eddy Award winner in the population under 65,000 category:
Glendora's Small Business Assistance Program funds business loans and reduces repayment obligations when job creation is documented. The City offers an online permit system available 24/7, competitive fees and lease rates, and a film friendly ordinance.  Glendora's Economic Development staff has visited more than 300 businesses since 2012 to better understand issues and offer solutions. The City ranks among the least expensive cities in L.A. County to conduct business, and Glendora was voted Best Friendly City and Best Downtown for two years running by San Gabriel Newspaper Group.  Glendora was a "Most Business Friendly City" finalist in 2012 and 2013.
EDDY AWARD HONOREES IN 2014
LAEDC also recognizes corporate, education and individual honorees for their outstanding leadership in economic development throughout L.A. County;  Honda, UCLA, and Anthony Pritzker.
American Honda Motor company (Honda) has been an engine of economic growth for LA County for more than 50 years, having established its first overseas subsidiary with eight employees out of a small storefront on Pico Boulevard in Los Angeles in 1959.  Today, it employs more nearly 40,000 associates across North America. Based on a longstanding commitment to "build products close to the customer," Honda operates 16 major manufacturing facilities in North America producing Honda and Acura automobiles, engines and transmissions, all-terrain vehicles, power equipment products and the HondaJet advanced light jet.
The company's Los Angeles County operations, which currently employ more than 2,000 associates, includes Honda's North American sales and marketing headquarters, the U.S. headquarters of American Honda Finance Corp., as well as the extensive market research, technology research, and product design operations of Honda R&D Americas, Inc., conducted at its three major facilities in LA County.
Los Angeles also functions as a critical center of learning and innovation for the company's advanced alternative-fuel vehicle technology programs. Honda was the first company to lease both electric vehicles and fuel cell vehicles to the City of Los Angeles – in 1997 and 2002, respectively – and the first to place fuel cell vehicles in the driveways of regular California consumers, beginning in 2005.
Thousands of Angelenos and their families have benefited from good jobs at Honda, and the Eddy Awards salute Honda for its job creation and the investments Honda continues to make in LA County which help our regional economy grow and prosper.
The University of California Los Angeles (UCLA) is known around the world for academics, research and service.  UCLA is one of the five largest employers in Southern California, providing full- and part-time employment for 42,000 people. UCLA's economic impact, including employee compensation, operating expenditures, and the ripple effect of that output — for example, factoring in employees' spending and the impact on companies that supply goods and services to the campus —is $12.7 billion, and supports an additional 53,000 jobs in Southern California.
UCLA stimulates the regional and state economy through the licensing of technology developed by its researchers and by serving as an incubator for startup companies. UCLA has 668 active patents and, through startup companies begun at UCLA, accounted for 4,411 jobs and an additional $1.1 billion in economic output.  With four world-class hospitals and 150 clinics, UCLA serves roughly 1.5 million patients in the greater Los Angeles area every year.  UCLA not only makes a direct contribution to the economy through the spending and jobs supported by its academic, administration, research, and health care activities, but also generates significant indirect economic impact.
UCLA's can-do spirit has resulted in 13 Nobel Prizes, 12 faculty MacArthur Fellows, more NCAA titles than any university and more Olympic medals than most nations. The faculty and alumni helped create the Internet, pioneered reverse osmosis desalination, and revolutionized stroke treatment. UCLA is the most economically diverse top-ranked university in the nation and has educated hundreds of thousands of young people who have helped make Los Angeles County a nation-sized economy of more than $580 billion output in 2013.  LAEDC is pleased to honor UCLA as the 2014 Eddy Award winner for outstanding leadership by an educational institution, in recognition of its amazing contribution to a thriving Los Angeles County economy.
Anthony N. Pritzker is Managing Partner of Pritzker Group, whose Los Angeles office adds strength to our local economy.  Among its businesses,  Pritzker Group has a private equity and a venture capital fund, and in the past two years has provided venture capital to nearly a dozen Southern California startups, which contributes to the growing strength of our regional innovation economy.
The Los Angeles region benefits from Tony Pritzker's generosity on many levels; last year the Anthony & Jeanne Pritzker Family Foundation donated $20 million to UCLA with a $15 million gift targeted to UCLA Institute of the Environment and Sustainability which empowers Los Angeles to become a global leader in areas of urban sustainability.  Tony's service on the boards of Los Angeles County Museum of Art, Hammer Museum, Phoenix House and Foster Care Counts reveals his deep connection with art, culture and community. Tony is a former Board President and still serves on the Board of Governors for Heal the Bay. Tony participates on Los Angeles Mayor Eric Garcetti's Council on Innovation and Technology, but his role as Co-Chairman of UCLA's Centennial Campaign with the goal to raise $4.2 billion is an excellent example of his commitment and passion for education.
As an Angeleno, Tony Pritzker's vision of a vibrant and strong Los Angeles inspires action and he reminds us that our progress can address global challenges.  LAEDC is honored to celebrate the many ways that his leadership and actions are driving positive change.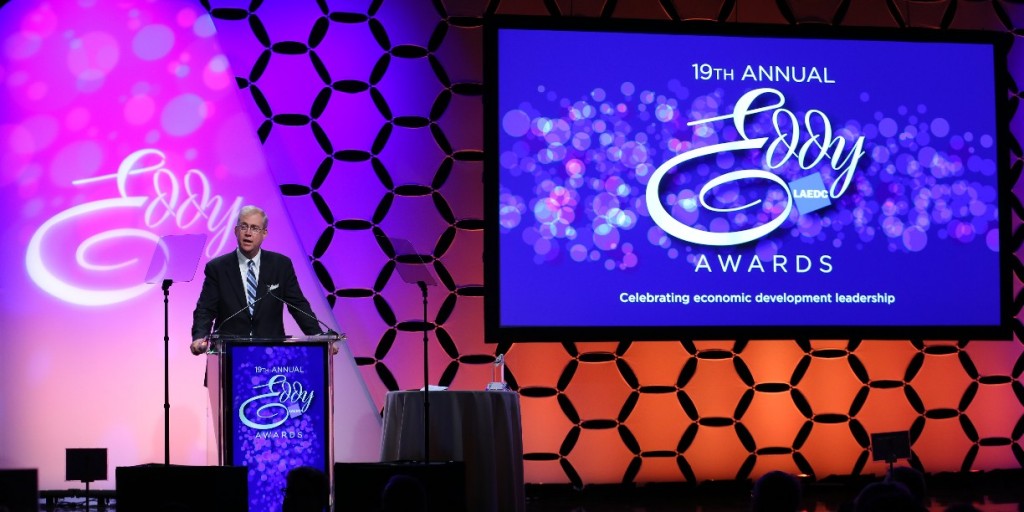 About the Eddy Awards      www.laedc.org/eddy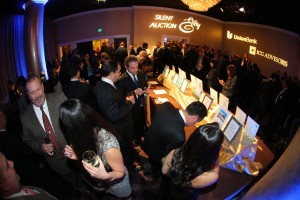 The Eddy Awards celebrate public and private leadership in LA County economic development, with the Most Business-Friendly City Award, and recognition of honorees that demonstrate exceptional contributions to positive economic development in the region. Eddy winners create a thriving LA County.
About the LAEDC     www.LAEDC.org
Established in 1981, the Los Angeles County Economic Development Corporation (LAEDC) provides collaborative, innovative and strategic economic development leadership to promote a globally competitive, prosperous and growing L.A. County economy to improve the health and wellbeing of our residents and communities and enable those residents to meet their basic human need for a job.  We achieve this through objective economic research and analysis, strategic assistance to government and business, and targeted public policy.  Our efforts are guided and supported by the expertise and counsel of our business, government and education members and partners. Since 1996, the LAEDC's Business Assistance team has helped to retain or attract over 198,000 annual jobs in Los Angeles County.
LAEDC Media Contact:   Lawren Markle / 213-773-2325 / [email protected]