v.18 n. 43 – Released November 5, 2014
This Week's Headlines:
Solid GDP Growth in Third Quarter
The Bureau of Economic Analysis (BEA) released its advance estimate for third quarter 2014 GDP growth. Coming in slightly ahead of expectations, the U.S. economy expanded by 3.5% during the third quarter. A large portion of this growth came from exports and defense spending. Although it is unlikely exports and defense will contribute very much to growth in the fourth quarter, the underlying spending detail suggests momentum is building in other sectors.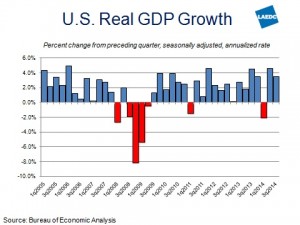 In the second quarter, rebounding from the weather-driven downturn (-2.1%) in first quarter, real GDP rose by 4.6%.
The increase in real GDP in the third quarter reflected positive contributions from personal consumption expenditures, exports, nonresidential fixed investment, and government spending at the federal, state and local levels. Partially offsetting gains in these sectors, private inventories contracted in the third quarter. Imports, which are a subtraction in the calculation of GDP, declined.
Consumer spending increased by 1.8%, contributing 1.22 percentage points to total growth in the third quarter. Spending on durable goods was very strong, increasing by 7.2%, but growth in services continues to be weak (1.1%). This primarily reflected lower utilities consumption – summer was unusually mild in many parts of the U.S.


Net exports (exports minus imports) contributed 1.32 percentage points to third quarter growth. Exports jumped by 7.8% while imports fell by 1.7%, mostly because of declining volumes of oil. Since peaking in the third quarter of 2008, imports of oil have fallen by 37% in inflation adjusted terms mainly due to increased domestic production.


Nonresidential fixed investment (business structures, equipment and intellectual property) increased by 4.2%, contributing 0.74 percentage points to growth; residential investment (housing) edged up by 1.8%.


Federal government spending and investment surged by 10.0% in the third quarter, mostly due to a large jump (16.0%) in defense spending. Large surges in defense spending typically do not continue over multiple quarters. Nondefense spending ticked up by 0.5%.


The only major sector to subtract from GDP growth in the third quarter was private inventories, which pulled growth down by 0.57 percentage points. Private businesses increased inventories by $62.8 billion in the third quarter, after adding $84.8 billion in the second quarter.
To get a sense of the underlying strength of the economy, economists like to look at real final sales of domestic product, which is found by subtracting the change in private inventories from GDP. Real final sales in the third quarter increased by 4.2%, the strongest pace in nearly four years. Looking ahead to fourth quarter growth, GDP is expected to expand by 2.5% to 3.0%, with annual growth for 2014 coming in at 2.2%. Economic growth is expected to accelerate to 3.0% for both 2015 and 2016. (Kimberly Ritter-Martinez)
Source: U.S. Bureau of Economic Analysis
Consumer Spending Pulls Back in September
Total personal income increased by 0.2% in September after rising by 0.3% in August. Total private wages and salaries were also up by 0.2% ($13.9 billion) over the month. Wages in goods producing industries edged up by 0.1% ($700 million), while wages in the service sector rose by 0.2% ($11.9 billion). Wages and salaries in the public sector ticked up by 0.1% ($1.4 billion). Government transfers (social security, Medicare, Medicaid, unemployment insurance, veterans' benefits) increased by 0.3% or $7.3 billion.
However, real personal consumption expenditures declined by 0.2% in September after increasing by 0.5% in August. Real, or inflation-adjusted numbers, are what matters most for the economic outlook because they more accurately reflect consumer purchasing power. In step with September's frugal consumers, the saving rate rose to 5.6% from 5.4% in the previous month.
Real consumer spending on durable goods plunged by 1.9% after rising by 2.3% in August. Spending on nondurable goods declined by 0.3% after increasing 0.2% in the preceding month.
On a year-to-year basis:

Real disposable income was up by 2.5%
Real personal consumption expenditures also increased by 2.1%
Growth in real spending on goods (2.8%) outpaced spending on services (1.7%)
Overall, prices continued flat over the month and have exhibited little upward pressure all year.
Given the decline in retail sales in September, total personal spending was expected to be softer as well, but even with those reduced expectations, these figures fell short. Overall, consumer spending and income growth during the third quarter increased at a modest pace.
Looking ahead at the fourth quarter, consumer confidence picked up in October, which is an indication spending will be stronger, as well. Some of that boost in confidence is almost certainly due to lower gasoline prices, which will also give consumers more disposable income. In another bit of good news, the National Retail Federation is forecasting holiday sales will rise by 4.1% this year, topping last year's gain of 3.1% and the 10-year average of 2.9%. (Kimberly Ritter-Martinez)
Source: U.S. Bureau of Economic Analysis
Events of Interest