GO-Biz shares best practices in improving permitting, customer service, and business process, all of which impact economic development.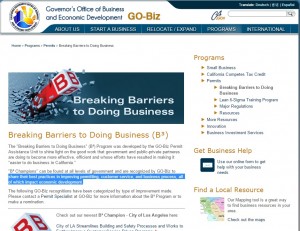 Building on the state's efforts to streamline the permitting process and make it easier to business in the state, the Governor's Office of Business and Economic Development (GO-Biz) today launched a new web page to highlight the best practices of business groups and state and local permitting agencies that are making their programs more user friendly for businesses.
"GO-Biz and our partners are working to improve California's business climate by streamlining permitting and incorporating efficiency measures developed by the private sector," said GO-Biz director Kish Rajan. "The Breaking Barriers to Doing Business web page captures those efforts and encourages more state and local agencies to follow our lead and improve their process."
Visit the website!