v.18 n. 41 – Released October 20, 2014
This Week's Headlines:
Events of Interest

October 30, 2014: 26th Annual Southern California Visitor Industry Outlook Conference
November 13, 2014: 19th Annual Eddy Awards Gala
September State and Local Employment Report
The Employment Development Department (EDD) released the state and local employment reports for the month of September. Total California nonfarm employment declined by 9,800 jobs over the month measured in seasonally adjusted (SA) terms. This followed a gain of 44,900 jobs (revised) in August. In non-seasonally adjusted terms, the state added 68,100 in September. The decline in the seasonally adjusted figure appears to be an aberration and will probably be revised upward in next month's EDD report.
The year-over-year change showed an increase of 297,000 jobs (SA). This equates to a growth rate of 1.9%, which matched the national average for September. California's private sector added 299,200 jobs (an increase of 2.3%) over the year, while employment in the public sector fell by 0.1% (-2,200 jobs).
Eight of the 11 super-sectors added jobs over the year to September: mining and logging; construction; trade, transportation and utilities; information; professional and business services; educational and health services; leisure and hospitality; and other services for a gain of 308,200 jobs. Professional and business services posted the largest gain on a numerical basis, adding 102,000 jobs over the year (up 4.3%). Construction posted the largest percentage gain, with the number of payroll jobs increasing by 6.0% (38,300 jobs).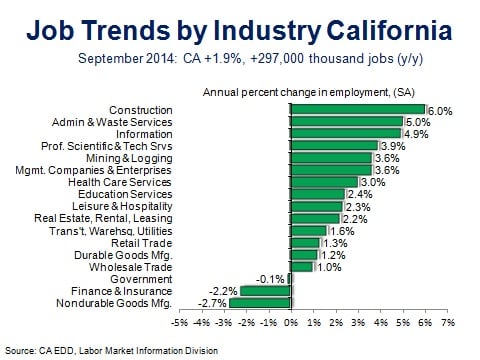 In addition to government, two other categories posted job declines over the year: manufacturing (-3,400 jobs) and financial activities (-5,600 jobs).
California's unemployment rate declined to 7.3% in September after holding at 7.4% over the previous three months and was down from 8.8% in September 2013. The State's unemployment rate is now below the long-run average (since 1990) unemployment rate of 7.7%. California's civilian labor force increased by 0.4% over the month and by 0.5% over the year. This tells us that the unemployment rate in California is not declining because the labor force is shrinking; rather, it is falling because the state is adding jobs more quickly than the labor force is growing.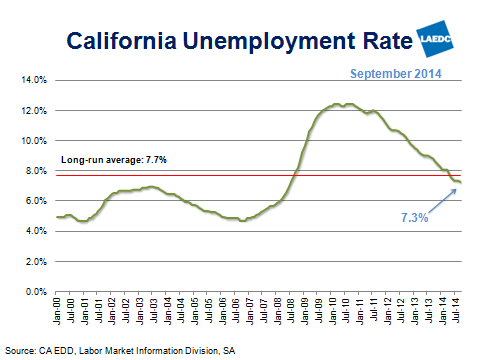 County highlights:
(Note: With the exception of the Los Angeles unemployment rate, county level numbers are not seasonally adjusted, which means there can be large month-to-month fluctuations in jobs counts. A truer picture of how local labor markets are faring is revealed by focusing on the year-over-year numbers. Annual trends "correct" for the seasonal factors that influence certain industry sectors over the course of the year.)
In Los Angeles County, the seasonally adjusted unemployment rate was 8.0%, down from 8.1% in August and from 9.7% a year ago. Total nonfarm employment rose by 27,900 jobs over the month and by 73,800 jobs over the year, an increase of 1.8%.

Professional and business services posted the largest year-over gain last month with an increase of 31,400 jobs. About half of those new jobs (15,600) were in administrative, support and waste services, with the balance in professional, scientific and technical services (12,500 jobs) and management of companies and enterprises (3,300 jobs).

Health care and social assistance added 15,800 jobs over the year, while retail trade increased by 10,500 jobs. Construction employment was up by 10,100 jobs; leisure and hospitality increased by 9,200 jobs and information payrolls expanded by 8,500 jobs. Within the information sector, motion picture and sound recording added 7,000 jobs, increase of 5.5% over the year.
Three industries posted declines last month: manufacturing (-16,100 jobs); wholesale trade (-3,000 jobs); and finance and insurance (-1,400 jobs).


In September, the unemployment rate in Orange County was 5.1%, down from 5.4% in August and below the year-ago figure of 6.1%. Nonfarm payrolls increased by 12,100 jobs over the month and by 28,200 over the year (an increase of 1.9%).


In the Riverside-San Bernardino area, the unemployment rate in September was 8.2%, compared with 8.7% in August and was well below the year ago rate of 9.9%. Nonfarm payrolls increased by 4,200 jobs over the month and were up by 29,900 jobs over the year. This represented an increase of 2.4%, making the Inland Empire one of the faster growing metro areas in California.


In Ventura County, the unemployment rate was 6.4%; down from the year ago estimate of 7.7%. Last month, total nonfarm employment increased by 2,500 jobs. Over the year ending in August, the number of nonfarm jobs in Ventura County was up by 5,600 (up 2.0%).
Summary: California's private sector continues to show momentum, adding jobs in most industries, led by gains in health care, professional and business services, and construction. Southern California unemployment rates are near, and in some cases below, their long run averages. Although many industries have been adding jobs for quite some time, the region has not yet recovered all the jobs that were lost during the recession, so we continue to look for improvement going forward. (Kimberly Ritter-Martinez)
Source: California EDD
Retail Sales Turn Down in September
Reflecting lower gasoline prices and a slowdown in consumer spending activity, total U.S. retail and food services sales declined by 0.3% in September, following a robust gain of 0.6% in August. Core retail sales, which exclude automobiles, gasoline stations and building and garden supply centers, were flat last month.
Eight of the 13 major sales categories recorded a decline in sales in September. The largest was clothing and clothing accessories stores (-1.2%). Non-store (vending machines, on-line) retailers and building supply centers both posted a decline of 1.1%. Elsewhere, sales fell by 0.8% at motor vehicle and parts dealers, furniture and home furnishings stores, and gasoline stations. The pullback in auto sales was the first decline in eight months, while the decline in gasoline sales was largely attributable to lower prices. Additionally, sales were down by 0.2% at miscellaneous store retailers and by 0.1% at sporting goods, hobby, book and music stores.
In spite of the overall decline, four sectors experienced an increase last month. Sales at electronics and appliance stores jumped by 3.4% (reflecting in large part the introduction of the new iPhone 6). Posting more modest increases, food services and drinking places were up by 0.6%; health and personal care stores rose by 0.3%, and general merchandise stores increased by 0.2%. Sales were flat at food and beverage stores.
On a year-over-year basis, total retail sales in September were up by 4.3%. The best performing sectors continue to be: motor vehicles and parts (9.5%); food services and drinking places (7.1%); health and personal care stores (6.0%) and non-store retailers (5.4%). The only major sector to post a year-over-year decline in sales was gasoline stations (-2.5%); and although sales at general merchandise stores rose by 2.7% over the year, the subsector department stores, posted a decline of 0.8%.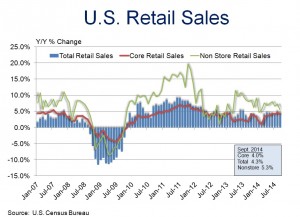 This was a disappointing report, but real consumer expending is still expected to be somewhere in the neighborhood of 1.8% to 2.3% in the third quarter, and 2.5% in the fourth. The increased pace of employment growth and soft inflation readings should support additional disposable income growth. Moreover, forecasts for the shopping holiday season are calling for much stronger sales than were posted last year. (Kimberly Ritter-Martinez)
Source: U.S. Census Bureau
Events of Interest
Hilton Anaheim; 778 W. Convention Way, Anaheim CA 92802 | 8:00 am to 4:00 pm
Please join us for the 26th Annual Southern California Visitor Industry Outlook Conference to be held at The Hilton Anaheim. Hear from noted experts, representing a range of travel sectors, offer their best assessment of the southern California economic situation and how it may affect your business.
All attendees receive an electronic copy of PKF Consulting's 2015 Lodging Forecast. Parking is complimentary and attendees will be able to enjoy a continental breakfast buffet before the conference begins.
Attendees will also hear from our keynote speaker, Mr. Ed Fuller, the President and CEO of Orange County Visitors Association (OCVA) who will discuss the major industry changes in the world today focusing on the new Global market and why it is valuable. He will also offer insight on strategies for increasing Global Visitors and the challenges in this segment.
The Beverly Hilton; 9876 Wilshire Blvd., Beverly Hills, CA 90210| 6:00 pm to 9:30 pm
The Eddy Awards® is one of the most prestigious awards programs to recognize leadership in economic development in business and government throughout Los Angeles County. The Eddy Awards®, a cocktail, dinner, and awards gala, also supports fulfillment of the Los Angeles County Economic Development Corporation's mission to attract, retain, and grow businesses and jobs for the regions of Los Angeles County.