v.18 n. 38 – Released September 23, 2014
This Week's Headlines:
August State and Local Employment Report
The Employment Development Department (EDD) released the state and local employment reports for the month of August. Total California nonfarm employment increased by 44,200 jobs over the month measured in seasonally adjusted (SA) terms. This followed a gain of 31,500 jobs (revised) in July.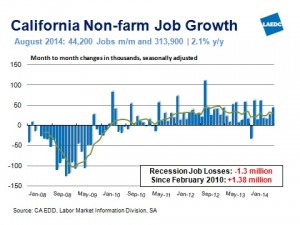 The year-over-year change showed an increase of 313,900 jobs (SA). This equates to a growth rate of 2.1%, which was higher than the national employment growth rate of 1.8% in August. California's private sector added 307,000 jobs (an increase of 2.4%) over the year, while employment in the public sector rose by just 6,900 jobs (0.3%)
Nine of the 11 super-sectors added jobs over the year to August: mining and logging; construction; trade, transportation and utilities; information; professional and business services; educational and health services; leisure and hospitality; other services; and government for a total gain of 322,800 jobs. Professional and business services posted the largest gain on a numerical basis, adding 93,000 jobs over the year (up 4.0%). Construction posted the largest percentage gain, with the number of payroll jobs increasing by 5.6% (35,600 jobs).
Two categories posted job declines over the year: manufacturing (-1,500 jobs) and financial activities (-7,400 jobs).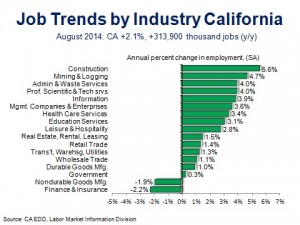 California's unemployment rate remained unchanged at 7.4% in August for the third consecutive month, but was down from 8.9% in August 2013. The state's unemployment rate is now below the long-run average (since 1990) unemployment rate of 7.7%. California's civilian labor force edged up by 0.1% over the month but remained unchanged over the year. This tells us that the unemployment rate in California is not declining because the labor force is shrinking; rather, it is falling because the state is adding jobs more quickly than the labor force is growing.
County highlights:
(Note: With the exception of the Los Angeles unemployment rate, county level numbers are not seasonally adjusted, which means there can be large month-to-month fluctuations in jobs counts. A truer picture of how local labor markets are faring can be gained from focusing on the year-over-year numbers. Annual trends "correct" for the seasonal factors that influence certain industry sectors over the course of the year.)
In Los Angeles County, the seasonally adjusted unemployment rate was unchanged over the month, holding steady at 8.1%, but was down from the year ago rate of 9.9%. Total nonfarm employment increased by 17,600 jobs over the month and by 69,100 jobs over the year, an increase of 1.7%.

Professional and business services posted the largest year-over gain last month with an increase of 31,800 jobs. About half of those new jobs (15,800) were in administrative, support and waste services, with the balance in professional scientific and technical services (12,600 jobs) and management of companies and enterprises (3,400 jobs).

Educational and health services payrolls increased by 20,700 jobs over the year. Health care contributed 16,600 new jobs and educational services 4,100 jobs. Leisure and hospitality employment was up by 7,900 jobs; transportation and utilities increased by 7,700 jobs and construction payrolls expanded by 6,600 jobs. The information sector added 4,800 jobs, with most of those concentrated in motion picture and video production (4,500 jobs or 3.6%).

The only industry to post a decline last month was manufacturing with a loss of 15,500 jobs, divided between durable goods (-5,000 jobs) and nondurable goods (-10,500 jobs).

In August, the unemployment rate in Orange County was 5.4%, down from 5.8% in July and below the year-ago figure of 6.4%. Nonfarm payrolls declined by 1,900 jobs over the month but were up by 17,900 over the year (an increase of 1.2%).
In the Riverside-San Bernardino area, the unemployment rate in August was 8.7%, compared with 9.3% in July and was well below the year ago rate of 10.5%. Nonfarm payrolls increased by 9,900 jobs over the month and were up by 33,700 jobs over the year. This represented an increase of 2.8%, making the Inland Empire one of the faster growing metro areas in California.
In Ventura County, the unemployment rate was 6.8%, down from the year ago estimate of 8.1%. Last month, total nonfarm employment increased by 300 jobs. Over the year ending in August, the number of nonfarm jobs in Ventura County was up by 3,700 (up 1.3%).
Summary: The California labor market continues to improve. At 15,539,600 jobs, the number of wage and salary jobs in the state surpassed the pre-recession peak of 15,449,800 reached July 2007 for the third month in a row, exceeding the previous peak by 89,800 jobs. In August, California also had the largest monthly job gain of any state in the nation. The Southern California Labor markets have seen significant decreases in unemployment rates with health care, professional business services, and leisure and hospitality leading in job growth. (Kimberly Ritter-Martinez)
Source: Employment Development Department
California Home Sales and Median Prices in August
The California Association of Realtors released their report on California existing home sales and median prices in August. The statewide median price rose over the 12 months ending in August by 8.9% to $480,280, the highest recorded since 2007. The median single-family home price in California has now risen on a year-over-year basis for 30 months.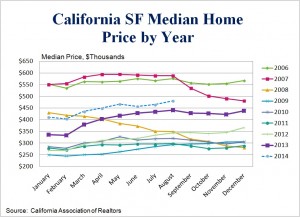 Conversely, California home sales continued to decline. Although the level of August sales was the second highest recorded so far this year, the number of single-family homes that closed escrow last month fell by 9.3% to 394,280 units (seasonally adjusted, annualized rate) compared with the same period last year. As of August, home sales across the state have declined on a year-over-year basis for over a year (13 months).
The inventory situation continues to improve. In August, there was a 4.0-month supply of unsold homes in California compared with 3.0 months a year ago. The inventory situation in Los Angeles County mirrored statewide conditions. Last month the supply of unsold homes in the county was also 4.0 months versus 2.9 months a year ago.
Mortgage interest rates slipped again in August, but failed to encourage an increase in sales activity. The 30-year, fixed-mortgage interest rate averaged 4.12% in August, down from 4.13% in July. A year ago, the rate was 4.46%.
As a result of rising prices, more people are in a position to list their homes for sale, which has helped increase inventory. On the other hand, in spite of low interest rates, higher prices are also creating affordability issues for many potential buyers, especially first timers.
Here is a year-over-year summary of sales and price activity in Southern California by county. Sales were down across the region; prices continue to climb.
Los Angeles County: unit sales declined by 12.5% over the year in August while the median price increased by 6.7% to $474,640.
Orange County: sales were down by 6.6% last month and the median price rose by 5.2% to $699,430.
Riverside County: sales of existing homes were dropped by 13.0%; the median price rose by 9.9% to $318,640.
San Bernardino County: sales plunged by 19.5% in August, but for the second consecutive month, San Bernardino was the only Southern California county to post a double-digit increase in median price, which rose by 14.2% to $209,200.
San Diego County: unit sales fell by 18.5%, while the median price increased by 5.9% to $510,860.
Ventura County: existing home sales declined by 5.8% but the median price rose by 8.4% to $602,060.

Source: California Association of Realtors

U.S. Trade Deficit Narrows in July

The U.S. Commerce Department reported that the U.S. trade deficit declined to $40.5 billion in the month of July, down from a revised $40.8 billion in June. While imports increased, the trade deficit edged down as exports had greater gains. Compared to a year earlier, the trade deficit was higher (from $39.4 billion to $40.5 billion).

U.S. exports increased by $1.8 billion from $196.2 billion in June to $198.0 billion in July, due mainly to a rise in foreign demand for U.S. automotive vehicles, parts and engines, followed by capital and consumer goods. On a year-to-year basis, U.S. exports of goods were up by 4.5% with gains across the board.

U.S. imports increased by $1.6 billion to $238.6 billion in July, up from $237.0 billion in June. The monthly rise in imports of goods (imports of services remained unchanged) was due in large part to a strong demand for foreign autos and auto parts. Auto imports saw a record high in July and while oil imports also increased, oil imports have trended lower over the last few years. That trend is likely continue as the U.S. works toward less reliance on foreign oil. When compared with July last year, U.S. imports were up by 4.3%.

The U.S. bilateral trade deficit with China, the largest trade deficit between the U.S. and any country, rose from $30.1 billion in June to $30.9 billion in July. The deficit with China accounted for 56.7% of the total U.S. trade deficit in July. Imports from China were $40.2 billion in July, while exports to that nation were $9.3 billion. Imports from China strengthened by 3.5% on a year-to-year basis and exports to China rose by 6.5% when compared to last year. U.S. trade deficits with the European Union and Japan grew in July, while deficits with Mexico, Canada, and Taiwan decreased from a month earlier.

Following on a significant drop in the in June's trade deficit, the additional (although smaller) decline in July indicates trade should bump up third quarter growth. Exports will likely provide only a modest boost — Europe is struggling and accounts for 20% of American exports. Meanwhile, imports should continue to grow due to strong domestic demand. (George Entis)

Source: Bureau of Economic Analysis

U.S. Travel and Tourism Spending Turns Up in 2Q14

Real spending on travel and tourism was up by 2.1% (seasonally adjusted annualized rate) during the second quarter. This followed a decline of 1.1% in the first quarter. Real gross domestic product also turned up in the second quarter, rising by 4.2%, after decreasing by 2.1% in the first quarter. The Bureau of Economic Analysis tracks the travel and tourism industry in the United States because it is an important source of jobs and economic activity, particularly here in Southern California. Additionally, foreign visitors traveling to the U.S. are an important source of export revenue.

Total direct spending on travel-related goods and services was $775.9 billion during the second quarter of this year compared with $771.1 billion in the previous quarter. Spending on passenger air transportation jumped by 10.0%; food services and drinking places expenditures increased by 6.5%; recreation and entertainment was up by 7.3% and shopping increased by 2.1%. These more than offset declines in traveler accommodations (-0.8%) and other transportation-related commodities (-5.3%).

Overall prices for travel and tourism goods and services were up by 7.0% in the second quarter after rising by 2.4% in the first quarter. This was the largest price increase since the second quarter of 2011. Although prices were up across the board, the acceleration during the second quarter was primarily attributable to an increase in passenger air transportation (9.9%) and traveler accommodation (11.1%).

The travel and tourism industry has been a source of steady job growth since the second quarter of 2010. Direct employment in this sector increased by 2.3% during the second quarter of 2014 after expanding by 2.1% in the previous quarter. Employment at food and drinking places rose by 3.5%, while transportation payroll jobs increased by 2.7%. Travel-related shopping jobs grew by 1.5%, accommodations rose by 1.1% and recreation and entertainment employment expanded by 0.8%. During the second quarter, nearly 5.5 million workers were employed in the U.S. travel and tourism industry, which equated to about 4% of all nonfarm payroll jobs in the U.S. (Kimberly Ritter-Martinez)

Source: Bureau of Economic Analysis

Growth Continues at the Ports in August

The total number of containers handled at the ports of Long Beach and Los Angeles in August decreased by 0.7 percent on a year-over-year basis to 1,330,785 TEUs (twenty-foot equivalent units). This was the seventeenth consecutive month of at least 1 million TEUs for the San Pedro Bay ports.

At the Port of Los Angeles, total containers rose by 6.8 percent on a year-to-year basis while the Port of Long Beach saw total containers drop by 9.1 percent in August when compared to last year. The San Pedro Bay ports have been on a positive growth track for the past twelve out of fourteen months.

Imports (loaded inbound traffic) at the Port of Los Angeles climbed by 7.8 percent from August 2013 to August 2014, rising from 355,683 TEUs to 383,551 TEUs. Meanwhile, imports at the Port of Long Beach decreased by 8.2% from August 2013 to August 2014, falling from 327,817 TEUs to 300,851 TEUs. Across both ports, the number of loaded inbound containers ticked up by 0.1%.

Exports (loaded outbound traffic) at the Port of Los Angeles witnessed a 6.2 percent jump from 158,485 TEUs in August 2013 to 168,248 loaded outbound TEUs in August 2014, the third monthly increase in a row. Meanwhile, exports at the Port of Long Beach decreased in August, the fifth monthly decline this year. The Port of Long Beach reported 126,856 loaded outbound TEUs (excluding empties) in the month of August, down 17.7% from 147,073 TEUs in August 2014. The combined ports experienced exports a monthly fall for the fourth time year-to-date, slowing by 5.6%

Bottom Line: The San Pedro Bay ports combined saw loaded inbound containers (imports) rise 5.3 percent year-to-date (YTD) when compared to the same period of last year (January to August). Meanwhile, on the other side of the trade picture loaded outbound containers (exports) rose 1.9 percent YTD. Total loaded containers contracted by 1.7 percent on a year-to-date basis.
(George Entis)

Source: Port of Los Angeles and Port of Long Beach

Events of Interest

L.A. Hotel Downtown; 333 S. Figueroa St., Los Angeles 90071

Introducing a long-term look at the regional economy and innovation in education. Featured guest speakers: Timothy White, Chancellor California State University system and Dr. Robert A. Kleinhenz, Chief Economist, LAEDC.

Palm Springs, CA (see event website for locations)

Join regional leaders from the Counties of Riverside, San Bernardino, Imperial, Inyo, Mono, Kern and Los Angeles to discuss the opportunities, challenges and solutions facing the various energy industries of Southern California. Learn from private and public sector leaders about how new programs, policy and trends that will affect your business and community. Explore interactive exhibits and discover new energy efficient and sustainable technologies.

Hilton Anaheim; 778 W. Convention Way, Anaheim CA 92802 | 8:00 am to 4:00 pm

Please join us for the 26th Annual Southern California Visitor Industry Outlook Conference to be held at The Hilton Anaheim. Hear from noted experts, representing a range of travel sectors, offer their best assessment of the southern California economic situation and how it may affect your business.

All attendees receive an electronic copy of PKF Consulting's 2015 Lodging Forecast. Parking is complimentary and attendees will be able to enjoy a continental breakfast buffet before the conference begins.

Attendees will also hear from our keynote speaker, Mr. Ed Fuller, the President and CEO of Orange County Visitors Association (OCVA) who will discuss the major industry changes in the world today focusing on the new Global market and why it is valuable. He will also offer insight on strategies for increasing Global Visitors and the challenges in this segment.

The Beverly Hilton; 9876 Wilshire Blvd., Beverly Hills, CA 90210| 6:00 pm to 9:30 pm

The Eddy Awards® is one of the most prestigious awards programs to recognize leadership in economic development in business and government throughout Los Angeles County. The Eddy Awards®, a cocktail, dinner, and awards gala, also supports fulfillment of the Los Angeles County Economic Development Corporation's mission to attract, retain, and grow businesses and jobs for the regions of Los Angeles County.