v.18 n. 35 – Released September 4, 2014
This Week's Headlines:
Events of Interest

October 8, 2014: LAEDC Economic Forecast
October 9-10, 2014: Southern California Energy Summit
October 30, 2014: 26th Annual Southern California Visitor Industry Outlook Conference
November 13, 2014: 19th Annual Eddy Awards Gala
August U.S. Labor Market Report
The U.S. Labor Market Report covering the national employment situation in August was released this past Friday. The unemployment rate edged down to 6.1%, and the U.S. economy added 142,000 jobs over the month. This was a significant slowdown from the job growth we have seen over the previous six months, but other labor market indicators point to a stronger job market than the August numbers suggest.
The employer payroll survey reported that total nonfarm employment in the United States increased by 142,000 jobs in August. The change in July employment was revised up from 209,000 jobs added to 212,000, but the change in June was revised down from 298,000 to 267,000. With these revisions, employment gains in July and June were 28,000 jobs less than previously reported. Incorporating these revisions, monthly job gains have averaged 215,000 year-to-date. Over the 12 months ending in August, the average monthly gain was 207,000.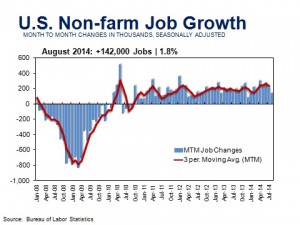 On a year-to-year (YTY) basis, U.S. employment expanded by 2.48 million jobs, an increase of 1.8%. Nearly every major private industry sector added jobs over the year. Information was the one exception, with a YTY decline in motion picture and sound recording employment accounting for the largest number of job losses in that sector (-26,600 YTY). At the national level, employment in motion picture and sound recording has declined each month this year. In contrast, employment in this industry in Los Angeles County has been on the rise. In July (latest data available), motion picture and sound recording employment in Los Angeles County was up by 6.1% over the year (7,400 jobs).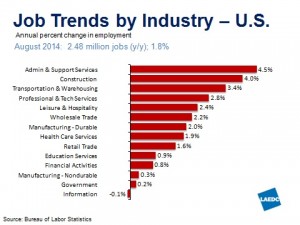 The unemployment rate (measured using a separate household survey), edged down in August from 6.2% to 6.1% in July, mostly due to a slight decline in the labor force. A year ago, the unemployment rate stood at 7.2%. The more comprehensive U-6 rate was 12.0% last month, which was down from 13.6% in August 2013. This rate includes discouraged workers and part-time workers who would like to work full time.
The number of people working part time because of slow business conditions or part-time was the only work they could find, fell by 7.9% over the year to 7.3 million. There were also 19.5 million people working part-time for non-economic reasons (e.g. school, retirement, childcare problems, family obligations).
Year-to-date, full-time workers have comprised 81.1% of employed persons, which is close to the long-run average ratio of full- to part-time workers (82.0%). The share of full-time workers during this cycle peaked at 82.9% in 2006/2007. This does run counter to perception that the economy is creating an exceptionally high number of part-time jobs at the expense of full-time work. Still, given a labor force of 155 million people, even a change of a few tenths of a percentage point in the full- to part-time ratio can translate to a large numerical increase in part-time jobs.
Summary: Job growth over the last several months has been solid. August was likely more of a hiccup than a change in trend. There were new record high levels of employment last month in mining and logging; professional and business services, education and health; and leisure and hospitality. Other economic and labor market indicators also point to stronger underlying growth. Claims for unemployment insurance have been low, surveys of hiring expectations have been good, and average hourly earnings are increasing (2.1% over the year). (Kimberly Ritter-Martinez)
Source: Bureau of Labor Statistics
U.S. Car and Light Truck Sales in August
Light vehicle sales were up over the year in August by 9.9% to 17.4 million units (seasonally adjusted annual rate), reaching their highest level since January 2006 when sales were 17.5 million vehicles.
Total passenger car sales, including foreign and domestic models, rose by 6.1% to 8.2 million units. For the second month in a row, the increase in passenger car sales was entirely the result of stronger sales of vehicles manufactured in the United States.
Sales of domestic autos jumped by 11.0% over the year to 6.1 million units
Foreign auto sales were down by 5.9% over the year to 2.1 million units
Compared with July, passenger car sales were up by 5.8%
Combined sales of foreign and domestic light trucks climbed by 13.6% over the year, rising to 9.2 million units. Light trucks accounted for 52.8% of total vehicle sales last month, slightly above the long-run average of 51.1%.
Sales of domestic trucks were up by 13.1% over the year to 7.8 million units
Foreign light truck sales, a much smaller segment of the U.S. truck market, increased by 16.1% over the year to 1.5 million units
Compared with July, sales of trucks and SUVs were up by 6.9%
Sales of medium-heavy trucks, used primarily by businesses to haul freight and make deliveries, gained momentum in August, shooting up by 27.6% over the year to 444,000 units.
Sales are on track to exceed 16 million this year for the first time since 2007. Between 1999 and 2007, auto sales in the U.S. regularly topped 16 million units. Affordable interest rates, attractive incentives and a desire to replace older vehicles (including a large number coming off leases) are boosting demand for new cars and trucks. Add rising consumer confidence and falling fuel prices to the mix and the result is a buying environment that has consumers flocking to dealer showrooms. (Kimberly Ritter-Martinez)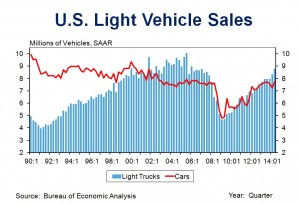 Source: Bureau of Economic Analysis
Events of Interest
L.A. Hotel Downtown; 333 S. Figueroa St., Los Angeles 90071
Introducing a long-term look at the regional economy and innovation in education. Featured guest speakers: Timothy White, Chancellor California State University system and Dr. Robert A. Kleinhenz, Chief Economist, LAEDC.
Palm Springs, CA (see event website for locations)
Join regional leaders from the Counties of Riverside, San Bernardino, Imperial, Inyo, Mono, Kern and Los Angeles to discuss the opportunities, challenges and solutions facing the various energy industries of Southern California. Learn from private and public sector leaders about how new programs, policy and trends that will affect your business and community. Explore interactive exhibits and discover new energy efficient and sustainable technologies.
Hilton Anaheim; 778 W. Convention Way, Anaheim CA 92802 | 8:00 am to 4:00 pm
Please join us for the 26th Annual Southern California Visitor Industry Outlook Conference to be held at The Hilton Anaheim. Hear from noted experts, representing a range of travel sectors, offer their best assessment of the southern California economic situation and how it may affect your business.
All attendees receive an electronic copy of PKF Consulting's 2015 Lodging Forecast. Parking is complimentary and attendees will be able to enjoy a continental breakfast buffet before the conference begins.
Attendees will also hear from our keynote speaker, Mr. Ed Fuller, the President and CEO of Orange County Visitors Association (OCVA) who will discuss the major industry changes in the world today focusing on the new Global market and why it is valuable. He will also offer insight on strategies for increasing Global Visitors and the challenges in this segment.
The Beverly Hilton; 9876 Wilshire Blvd., Beverly Hills, CA 90210| 6:00 pm to 9:30 pm
The Eddy Awards® is one of the most prestigious awards programs to recognize leadership in economic development in business and government throughout Los Angeles County. The Eddy Awards®, a cocktail, dinner, and awards gala, also supports fulfillment of the Los Angeles County Economic Development Corporation's mission to attract, retain, and grow businesses and jobs for the regions of Los Angeles County.