v.18 n. 34 – Released August 28, 2014
This Week's Headlines:
California Home Sales and Median Prices in July
The California Association of Realtors released their report on California existing home sales and median prices in July. The statewide median price rose over the 12 months ending in July by 7.1% to $464,750. Although June marked the end of 23 months of double-digit prices increases, the median single-family home price in California has now risen on a year-over-year basis for 29 months.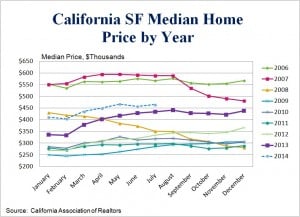 On the other hand, California home sales continued to decline, falling by 10.0% to 398,940 units (seasonally adjusted, annualized rate) compared with the same period last year. As of July, home sales across the state have declined on a year-over-year basis for a full year. On a more encouraging note, compared with June, sales in July were up by 1.2% making the sales rate in July the fastest since October 2013.
With the run up in prices over the past two years, affordability is playing a significant part in holding back home sales. In spite of recent improvements in bank lending practices, underwriting standards remain relatively strict and are also acting as a brake on sales. It also seems plausible that the unsettled state of the housing market and slow wage growth are leaving many potential buyers feeling now is not the right time to buy a home. On the positive side, inventories have improved and mortgage interest rates have been edging down again.
In July, there was a 3.8-month supply of unsold homes in California compared with 2.9 months a year ago. The inventory situation in Los Angeles County mirrored statewide conditions. Last month the supply of unsold homes in the county was also 3.8 months versus 2.9 months a year ago.
Mortgage interest rates slipped again in July. The 30-year, fixed-mortgage interest rate averaged 4.13% in June, down from 4.16% in June. A year ago, the rate was 4.37%.
Here is a year-over-year summary of sales and price activity in Southern California by county. Sales were down across the region; prices continue to climb, but the rate of increase is slowing.
Los Angeles County: unit sales declined by 7.3% over the year in July while the median price increased by 9.5% to $461,290.
Orange County: sales dropped by 16.4% last month and the median price rose by just 3.0% to $695,270.
Riverside County: sales of existing homes were down by 3.6%; the median price rose by 8.7% to $319,960.
San Bernardino County: sales fell by 2.5% in July, but San Bernardino was the only Southern California county to post a double-digit increase in median price, which rose by 20.1% to $216,570.
San Diego County: unit sales plunged by 18.8%, while the median price increased by 8.1% to $523,070.
Ventura County: existing home sales declined by 8.3% but the median price rose by 7.3% to $585,830.
Source: California Association of Realtors
U.S. Household Debt and Credit
The Federal Reserve Bank of New York publishes a quarterly report on household debt and credit. After a solid year of accumulating higher levels of debt, American household debt declined by $18 billion (or 0.2%) during the second quarter of this year compared with the first quarter. As of June 30, 2014, total consumer indebtedness was $11.6 trillion. Total consumer debt is still 8.3% below the peak level reached in the third quarter of 2008.
Home mortgages, which are the largest component of household debt accounted for most of the decline. During the second quarter, home lending fell by 0.8% to $8.1 trillion. Balances owed on home equity lines declined by $5.0 billion (-1.0%). New mortgage originations dropped to $286 billion, the lowest level since 2000.
Auto loan balances increased by $30 billion, buoyed by $101 billion in new auto loan originations recorded during the second quarter. This was the highest volume of originations since the third quarter of 2006.
Student loan balances were up by $7 billion and were $124 billion higher than a year ago. Currently, about 10.9% of student loan debt is 90 days delinquent or in default.
Credit card balances rose by $10 billion, while other types of nonmortgage debt increased by $9 billion. Credit card limits have been rising steadily and were up by 1.0% over the first quarter of this year.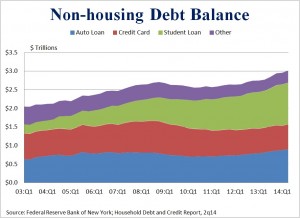 Overall, delinquency rates improved during the second quarter. As of June 30, 6.2% of outstanding debt was in some stage of delinquency, compared with 6.6% at the end of the first quarter. Additionally, only 1.2% of current mortgage balances transitioned into delinquency. That was the lowest rate since 2000. The cure rate, that is the share of balances that transitioned from 30-60 days delinquent to current, improved slightly to 35.2% versus 35.1% in the first quarter.
Another positive in this report was the increase in the level of total credit inquiries, which serve as an indicator of loan demand. Credit inquiries rose for the fourth consecutive quarter at a 2% year-over-year rate. Taken together with declining delinquency rates, the rising demand for credit is a signal the lending markets are poised for continuing improvement, which should lead to an uptick in consumer spending. (Kimberly Ritter-Martinez)
Source: Federal Reserve Bank New York