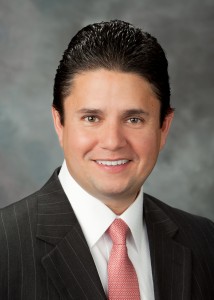 I'm excited to serve as the new incoming Chairman of the LAEDC.    This is an exciting time to be leading such a great organization committed to economic development of our region through the creation and retention of our work force and by helping cultivate a business-friendly environment.   We have great leadership under Bill Allen and I am looking forward to working very closely with him, his leadership team, our Executive Committee, and our Board of Governors.
I would also like to thank Lew Horne for the great leadership he provided us as our most recent Chairman during the last 15 months.    He has a set a great trajectory for the LAEDC that I will continue to move forward.    My focus will be to advance our stated fiscal year 2015 strategic priorities and to help nurture and grow our important partnerships with the business community, our membership, and our local elected officials.
I would welcome the opportunity to meet all of our members at our upcoming LAEDC Summer Mixer at Dodger Stadium on August 25th from 6pm to 8pm.   We will host this fun networking event at the Bank of America Retired Numbers Plaza.
Sincerely, Raul A. Anaya
President – Greater Los Angeles
Bank of America
 For information about the LAEDC Summer Mixer, please email [email protected]