v.18 n. 33 – Released August 18, 2014
This Week's Headlines:
July State and Local Employment Report
The Employment Development Department (EDD) released the state and local employment reports for the month of July. Total California nonfarm employment increased by 27,700 jobs over the month in July measured in seasonally adjusted (SA) terms. This followed a gain of 16,200 jobs (revised) in June.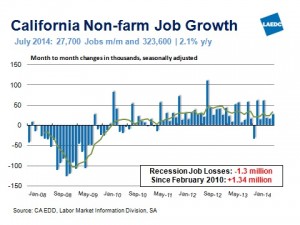 The year-over-year change showed an increase of 323,600 jobs (SA). This equates to a growth rate of 2.1%, which was about on par with the national employment growth rate of 2.2% in July. California's private sector added 305,300 jobs (an increase of 2.4%) over the year, while employment in the public sector rose by 18,300 jobs (0.8%).
Nine of the 11 super-sectors added jobs over the year to July: mining and logging; construction; trade, transportation and utilities; information; professional and business services; educational and health services; leisure and hospitality; other services; and government for a total gain of 336,300 jobs. Professional and business services posted the largest gain on a numerical basis, adding 91,800 jobs over the year (up 3.9%). Information posted the largest percentage gain for the second consecutive month, with the number of payroll jobs increasing by 4.1% (18,400 jobs). Similar to last month, the bulk of new jobs created in the information sector were in motion picture and sound recording industries.
Two categories posted job declines over the year: manufacturing (-1,500 jobs) and financial activities (-11,200 jobs).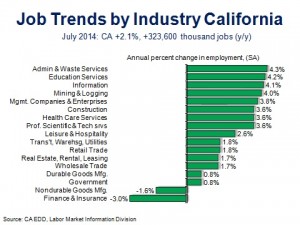 California's unemployment rate remained unchanged at 7.4% in July, but was down from 9.0% in July 2013. The unemployment rate in June and July was the lowest since July 2008 when it stood at 7.3%. The state's unemployment rate is now below the long-run average (since 1990) unemployment rate of 7.7%. California's civilian labor force contracted by 0.2% over the month and was down by 0.1% over the year.
County highlights:
(Note: With the exception of the Los Angeles unemployment rate, county level numbers are not seasonally adjusted, which means there can be large month-to-month fluctuations in jobs counts. A truer picture of how local labor markets are faring can be gained from focusing on the year-over-year numbers. Annual trends "correct" for the seasonal factors that influence certain industry sectors over the course of the year.)
In Los Angeles County, the seasonally adjusted unemployment rate was unchanged over the month, holding steady at 8.1%, but was down from the year ago rate of 10.0%. Although total nonfarm employment in Los Angeles County declined by 57,600 jobs over the month in July, on a year-over-year basis, employment was up by 69,200 jobs, an increase of 1.7%. The monthly decline was mainly due to a seasonal drop in education employment within state and local government.

Professional and business services posted the largest year-over gain last month with an increase of 27,600 jobs. The majority of those new jobs (13,900) were in professional, scientific, and technical services; 10,600 were in administrative, support and waste services, and 3,100 new jobs were added in the management of companies and enterprises sector.

Educational and health services payrolls increased by 18,800 jobs over the year. Much of the job growth in this sector was attributable to an increase in health care and social assistance, which was up by 15,800 jobs. Employment in retail trade expanded by 9,700 jobs, while leisure and hospitality employment increased by 8,600 jobs, of which, 7,600 were in restaurants and bars. Construction employment was up by 7,700 jobs, and motion picture and sound recording posted an increase of 7,400 jobs.

Four sectors posted job declines last month: wholesale trade (2,600 jobs); finance and insurance (2,000 jobs); durable goods manufacturing (5,300 jobs); and nondurable goods manufacturing (9,700 jobs). Over 40% of the jobs losses in nondurable goods manufacturing were due to a drop in apparel cut and sew jobs.

In July, the unemployment rate in Orange County was 5.7%, up from 5.2% in June but still below the year-ago figure of 6.7%. Nonfarm payrolls declined by 13,900 jobs over the month but were up by 22,500 over the year (an increase of 1.6%).
In the Riverside-San Bernardino area, the unemployment rate in July was 9.2%, compared with 8.4% in June but was still well below the year ago rate of 10.9%. Nonfarm payrolls declined by 17,000 jobs over the month but were up by 26,300 jobs over the year. This represented an increase of 3.0%, making the Inland Empire one of the faster growing metro areas in California.
In Ventura County, the unemployment rate was 7.0%, down from the year ago estimate of 8.3%. Last month, total nonfarm employment declined by 3,400 jobs. Over the year ending in July, the number of nonfarm jobs in Ventura County increased by 5,100 (up 1.8%).
Summary: The California labor market continues to improve. At 15,492,500 jobs, the number of wage and salary jobs in the state surpassed the pre-recession peak of 15,449,800 reached July 2007 for the second month in a row, exceeding the previous peak by 42,700 jobs. The Southern California Labor market also continues to improve with health care, professional business services, and leisure and hospitality leading the region's industries in term of year-to-year job gains. (Kimberly Ritter-Martinez)
Source: California Employment Development Department, LMID
SoCal Home Sales and Median Prices in July
Southern California home sales in July totaled 20,369 units (new and resale houses and condominiums), a decline of 12.4% compared with the same period last year. Sales throughout the six-county region have now fallen on a year-over-year basis for 10 consecutive months. The pace of home sales last month was the slowest for the month of July in three years and was 19.4% below the average level of sales for July.
The median price across Southern California increased by 7.3% to $413,000 over the year but was down from $415,000 in June, which was the highest median price since January 2008 when it was also $415,000. The year-over-year gain, however, was the slowest recorded since June 2012, and July was the first month in two years when all but one of Southern California's counties failed to post a double-digit price increase.
The number of homes for sale continues to fall short of demand, which is one of the main reasons why prices continue to rise, but the rate of increase has slowed considerably. Many potential buyers are held back by a relatively conservative lending environment and wage growth that falls far short of the run-up in home prices. After 22 months of double-digit prices gains ended in June, Southern California's housing market recovery continues to unfold, but going forward much will depend on wage growth, mortgage interest rates and an increased willingness on the part of lenders to make loans. (Kimberly Ritter-Martinez)

Source: DQ News
U.S. Retail Sales Flat in July
After five consecutive months of steady gains, total U.S. retail and food services sales remained unchanged over the month in July. Core retail sales, however, still managed to carve out a gain of 0.1%. Core retail sales, which exclude automobiles, gasoline stations, and building and garden supply centers, are an important indicator of consumer activity because they align more closely with the measure of personal consumption expenditures the BEA uses to calculate GDP.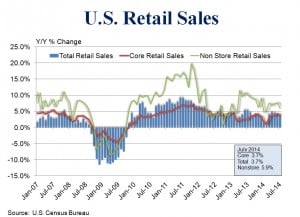 Five of the 13 major sales categories recorded a decline in July. General merchandise stores (including department stores) posted the largest month-over decline (-0.5%). Motor vehicle sales, which have provided a much needed boost to consumer spending over the last several months, also hit the brakes in July, declining by 0.2%. Appliances and electronics, and home furnishings each posted additional declines of 0.1%. Non-store retailers (on-line, catalogue and vending machines) recorded a rare drop last month as well (-0.1%). Non-store retailers, or more precisely the e-commerce portion of non-store retailers, have been a steady source of retail sales growth since the end of the recession.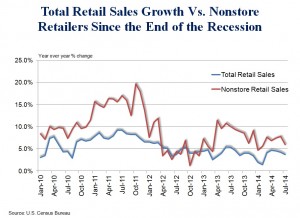 Offsetting those losses were gains in miscellaneous store retailers (0.9%); clothing and accessories (0.4%); health and personal care stores (0.4%); food and beverages store (0.3%); sporting goods, books, music and hobbies (0.2%); building supply centers (0.2%); restaurants and bars (0.2%); and gasoline stations (0.1%).
On a year-over-year basis, total retail sales in July were up by 3.7%. The best performing sectors were restaurants and bars (6.2%); automobiles and parts (6.0%); non-store retailers (5.9%); and building supply centers (5.1%). The only major sectors to post a year-over decline in sales were sporting goods, books, music and hobbies (-2.3%) and gasoline stations (-1.2%). While general merchandise stores posted sector-wide increase of 1.1%, sales at department stores (a major component of this category) fell over the year by 3.0%.
Although retail spending in July was a disappointment, consumer spending over the next several quarters is still expected to be somewhere in the neighborhood of 2.0 to 2.5%. However, in the absence of significant and sustained growth in real wages, many American households will continue to approach discretionary spending with caution. (Kimberly Ritter-Martinez)
Source: U.S. Census Bureau
Events of Interest
Los Angeles Convention Center; 1201 S. Figueroa St., Los Angeles, CA 90017
The Los Angeles Tourism and Convention Board (LATCB) Market Outlook Forum is the strategic forecasting conference for any business interested in capitalizing on L.A.'s record tourism growth. Los Angeles welcomed a record 42.2 million visitors from around the globe in 2013, making it one of the most-visited destinations in the U.S., and forecasts call for continued growth with 50 million visitors by 2020. This valuable event will help you prepare to welcome them and benefit from the tremendous anticipated growth in visitation.
L.A. Hotel Downtown; 333 S. Figueroa St., Los Angeles 90071
Introducing a long-term look at the regional economy and innovation in education. Featured guest speakers: Timothy White, Chancellor California State University system and Dr. Robert A. Kleinhenz, Chief Economist, LAEDC.
Palm Springs, CA (see event website for locations)
Join regional leaders from the Counties of Riverside, San Bernardino, Imperial, Inyo, Mono, Kern and Los Angeles to discuss the opportunities, challenges and solutions facing the various energy industries of Southern California. Learn from private and public sector leaders about how new programs, policy and trends that will affect your business and community. Explore interactive exhibits and discover new energy efficient and sustainable technologies.
Hitlon Anaheim; 778 W. Convention Way, Anaheim CA 92802 | 8:00 am to 4;00 pm
Please join us for the 26th Annual Southern California Visitor Industry Outlook Conference to be held at The Hilton Anaheim. Hear from noted experts, representing a range of travel sectors, offer their best assessment of the southern California economic situation and how it may affect your business.
All attendees receive an electronic copy of PKF Consulting's 2015 Lodging Forecast. Parking is complimentary and attendees will be able to enjoy a continental breakfast buffet before the conference begins.
Attendees will also hear from our keynote speaker, Mr. Ed Fuller, the President and CEO of Orange County Visitors Association (OCVA) who will discuss the major industry changes in the world today focusing on the new Global market and why it is valuable. He will also offer insight on strategies for increasing Global Visitors and the challenges in this segment.