v.18 n. 32 – Released August 11, 2014
This Week's Headlines:
U.S. Trade Deficit Narrows in June – Good News for the U.S. Economy
The U.S. Commerce Department reported that the U.S. trade deficit declined to $41.5 billion in the month of June, down from a revised $44.7 billion in May. Overall imports fell in June while exports witnessed a record high on a monthly basis. When comparing June 2013 to June 2014, the trade deficit was higher (from $36.5 billion to $41.5 billion).
U.S. exports increased by $0.3 billion from $195.6 billion in May to $195.9 billion in June, due mainly to a rise in foreign demand for U.S. automotive vehicles, parts and engines and consumer goods (pharmaceuticals and jewelry). On a year-to-year basis, U.S. exports were up by 2.9% as increases occurred in foods, feeds and beverages, automotive vehicles, parts and engines and consumer goods.
U.S. imports declined by $2.9 billion to $237.4 billion in June, down from $240.3 billion in May. The monthly drop in imports mainly reflected the lower U.S. demand for foreign oil. Meanwhile, food imports climbed to a record high in June. When compared to last year, U.S. imports jumped by 4.6%.
The U.S. bilateral trade deficit with China, the largest trade deficit between the U.S. and any country, rose from $28.8 billion in May to $30.1 billion in June. The deficit with China accounted for 51.1% of the total U.S. trade deficit in June. Imports from China were $39.4 billion in June, while exports to that nation were $9.4 billion. Imports from China strengthened by 9.7% on a year-to-year basis and exports to China rose by 2.2% when compared to last year. U.S. trade deficits with Canada, South Korea, the European Union, and Germany all decreased in June. However, the trade deficit with Mexico and Japan increased in June.
Bottom Line: The June trade deficit was much smaller than what was anticipated by the U.S. Department of Commerce. In fact, the second quarter GDP growth figure of 4% was based on the assumption that the U.S. trade deficit for the second quarter would be larger. All else equal, the smaller deficit should lead to an upward revision of the second quarter GDP. Beyond that, the new record export high of the past few months should bode well for economic growth for the second half of the year as exports positively contribute to GDP. Meanwhile, we shall see where imports are headed for the remainder of 2014, particularly non-petroleum imports as imports subtract from GDP. (Ferdinando "Nando" Guerra)
Turning the Corner: The 2014-15 California Budget
On June 20, 2014, the Governor signed the 2014-15 Budget Act into law along with 17 other budget-related bills. Spending will consist of $108.0 billion from the State's General Fund. The current budget also assumes additional spending of $44.3 billion from the Education Protection Account (created by Proposition 30 in 2012) and $98.0 billion in federal funds due to increases in health care spending.
On the revenue side, the 2014-15 budget assumes General Fund revenues of $107.1 billion, an increase of nearly 5.0% over the previous fiscal year. The bulk of those revenues ($103 billion) will come from California's "Big Three" taxes (personal income taxes, corporate income taxes, and sales and use taxes), which are projected to increase by $5.6 billion (or 5.7%) during FY 2014-15. Transfers and loans are expected to decline significantly based on the assumption that borrowing from special funds will fall by several hundred million dollars.
Fiscal year 2013-14 ended with nearly $3.0 billion in (estimated) reserves of which, $450 million will be allocated to the Special Fund for Economic Uncertainties and $1.606 billion to the Budget Stabilization Account.
The current fiscal year budget is projected to close in June 2015 with reserves falling to $2.1 billion due to an operating deficit of $892 million — General Fund revenues ($107.1 billion) less expenditures ($108 billion).
General Fund Spending and Revenues

Major features of the 2014-2015 spending plan:
Fully funds CalSTRS pension program. As of the end of FY 2012-13, the California State Teachers' Retirement systems (CalSTRS) had a $74 billion shortfall. Budget-related legislation has been enacted to erase the unfunded liability in 32 years by increasing contributions from the state, school and community college districts and teachers.
Proposition 98: The budget plan includes large Proposition 98 funding increases for schools and community colleges.
The new budget increases spending on childcare and preschool by $255 million. This includes $67 million for 7,500 additional preschool slots (bringing the total number to almost 150,000) and $3.0 million for an additional 4,000 slots effective June 2015. The budget also includes $68 million for provider rate increases and $75 million for quality improvement activities.
Health and human services. The budget increases in-home supportive services funding by $172.2 million to comply with new federal labor regulations for home care workers. The new budget also includes about $80 million for the California Work Opportunity and Responsibility to Kids Program and $54 million for increased capacity for patients at state hospitals.
Enacts Cap-and-trade spending plan. The 2014-15 budget includes $832 million from the Greenhouse Gas Reduction Fund for various programs including $250 million for the State's high-speed rail project.
Pays down remainder of the Economic Recovery bonds – $1.6 billion is allocated to pay off the remaining principal on these bonds in 2014-2015.
Increases pay for most state employees by 2% beginning July 1, 2014. In total, the budget includes $500 million for pay increases this year.
Provides $100 million in one-time funding for the Multi-family Housing Program.
These figures constitute a preliminary analysis made by the Legislative Analyst's Office based on legislative and gubernatorial actions through July 29, 2014. A final version of the report will be released in the fall of 2014 and will incorporate any significant budget-related actions that have occurred between now and then. (Kimberly Ritter-Martinez)
Source: Legislative Analyst's Office
Fed Survey Reports Mortgage Demand Up; More Relaxed Lending Standards
The Federal Reserve recently released results for the July 2014 Senior Loan Officer Survey on Bank Lending Practices. This survey addresses changes in the supply of, and demand for, bank loans to businesses and households during the past three months.
Recent data from the July survey revealed a pickup in both the supply of and demand for business and consumer loans. Increased borrowing by businesses for investment and by consumers to finance consumption is a positive sign for the economy.
Broadly speaking, domestic banks eased their lending policies for commercial and industrial (C&I), and commercial real estate (CRE) loans over the past three months. Banks also reported stronger demand for both types of loans in the July survey.
A small net percentage of responding banks reported easing standards for C&I loans for large, middle-market and small firms.
A larger fraction of banks reported easing the terms of C&I loans and the spread of loan rates over the banks' cost of funds.
On the demand side, a significant fraction of banks reported stronger demand for C&I loans from firms of all sizes. To explain the increase in demand, banks cited financing requirements for investment in plant or equipment, accounts receivable, inventories, and mergers and acquisitions.
According to a recent report released by the San Francisco Fed, as business loans have become more readily available, and amid stronger demand, the level of C&I lending has surpassed the previous peak reached in 2009.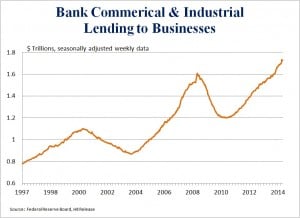 A modest fraction banks also reported they had eased standards for commercial real estate loans secured by construction and land development, and loans secured by nonfarm nonresidential structures, while standards for loans secured by multifamily residential structures remained unchanged. Demand for all types of commercial real estate loans was generally stronger.
On the household side, a moderate percentage of banks reported easing their standards on prime residential mortgages after two quarters of tightening. To put these recent improvements into perspective, a large fraction of banks said that lending standards for all categories of residential real estate loans included in the survey were still somewhat tighter than the midpoints of the ranges that those standards have occupied since 2005.
Even so, banks also reported stronger demand for prime residential mortgages for the first time in a year. Although the housing market recovery stalled during the first half of this year, easier lending standards and an increase in demand for mortgages might help nudge it back on track.
A few large banks also reported easing standards and raising credit limits for credit card loans. Survey respondents also experienced stronger demand for consumer loans, including credit cards, over the last quarter. Standards for auto and other types of consumer loans remained largely unchanged, with many banks nonetheless reporting stronger demand. (Kimberly Ritter-Martinez)
Source: Federal Reserve
Consumer Credit: Still More Supply Than Demand
Total consumer credit outstanding (all non-mortgage debt) increased by 6.5% ($17.2 billion) over the month in June to just over $3.2 trillion (seasonally adjusted annualized rate). While respectable, the increase in June was about $1 billion below expectations. Over the 12 months ending in June, total consumer credit was up by 6.7%.
Non-revolving debt expanded by 8.4% last month, or $16.3 billion, representing about three-quarters of all non-mortgage consumer debt. Growth in non-revolving debt is dominated by borrowing for new automobiles and student loans. Exceptionally low interest rates have helped drive lending for new cars and trucks. Rates are starting to tick up however, which may hinder loan demand going forward. As for student loans, rising tuition costs mean more families will have to borrow to fund a college education. In a recent survey published by the Federal Reserve, respondents reported an average of $27,840 in student loan debt, and nearly half said the costs of servicing student loan debt had an impact on other spending decisions.
After three months of encouraging gains, revolving debt (mainly credit cards) grew by just 1.3% ($1 billion) in June. Even with easier lending standards and consumers feeling better about the economy, demand for credit card loans is rising only slowly (2.5% over the year). Consumers are continue to exhibit caution when it comes to discretionary spending.
The ratio of household debt to disposable income has been on an upward trend since the end of the recession and ticked a tenth of a percentage point higher last month, rising to 24.7%. The long-run ratio (since 1995) is 22.8%.
Looking ahead, easier credit terms and steady improvements in the labor markets, along with the strong second quarter GDP gain should contribute to boosting consumer willingness to increase spending and debt levels. (Kimberly Ritter-Martinez)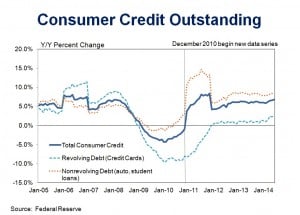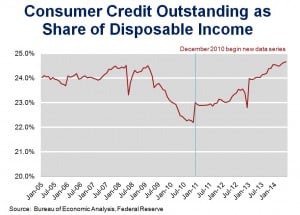 Source: Federal Reserve and
Report on the Economic Well-being of U.S. Households
Events of Interest
Los Angeles Convention Center; 1201 S. Figueroa St., Los Angeles, CA 90017
The Los Angeles Tourism and Convention Board (LATCB) Market Outlook Forum is the strategic forecasting conference for any business interested in capitalizing on L.A.'s record tourism growth. Los Angeles welcomed a record 42.2 million visitors from around the globe in 2013, making it one of the most-visited destinations in the U.S., and forecasts call for continued growth with 50 million visitors by 2020. This valuable event will help you prepare to welcome them and benefit from the tremendous anticipated growth in visitation.
L.A. Hotel Downtown; 333 S. Figueroa St., Los Angeles 90071
Introducing a long-term look at the regional economy and innovation in education. Featured guest speakers: Timothy White, Chancellor California State University system and Dr. Robert A. Kleinhenz, Chief Economist, LAEDC.
Palm Springs, CA (see event website for locations)
Join regional leaders from the Counties of Riverside, San Bernardino, Imperial, Inyo, Mono, Kern and Los Angeles to discuss the opportunities, challenges and solutions facing the various energy industries of Southern California. Learn from private and public sector leaders about how new programs, policy and trends that will affect your business and community. Explore interactive exhibits and discover new energy efficient and sustainable technologies.