v.18 n. 31 – Released August 4, 2014
This Week's Headlines:
July U.S. Labor Market Report
The U.S. Labor Market Report covering the national employment situation in July was released this past Friday. The unemployment rate edged up to 6.2% but the U.S. economy added 209,000 jobs over the month. There were also significant upward revisions to the May and June job counts.
The employer payroll survey reported that total nonfarm employment in the United States increased by 209,000 jobs in July. The change in June employment was revised up from 288,000 jobs added to 298,000 and the change in May was revised from 224,000 jobs to 229,000. With these revisions, employment gains in June and May were 15,000 jobs higher than previously reported.
The pace of job creation appears to be accelerating. Incorporating these revisions, monthly jobs gains have averaged 230,000 year-to-date. Over the 12 months ending in July, the average monthly gain was 214,000.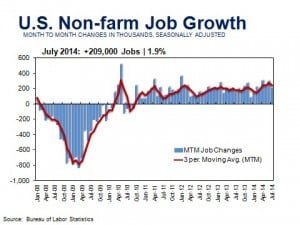 On a year-to-year (YTY) basis, U.S. employment expanded by 2.57 million jobs, an increase of 1.9%. Nearly every major private industry sector expanded payrolls both over the month and over the year. Information was the one exception, with a YTY decline in motion picture and sound recording employment accounting for the largest number of job losses in that sector (-56,300 YTY). Conversely, in Los Angeles County, the motion picture and sound recording industry has been adding jobs: 11,400 in June YTY.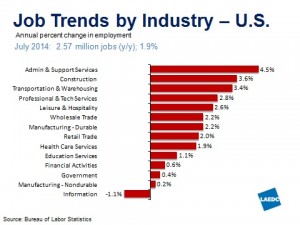 The unemployment rate (measured using a separate household survey), edged up in July to 6.2% from 6.1% in June. A year ago, the unemployment rate stood at 7.3%. The more comprehensive U-6 rate was 12.2% last month, which was down from 13.9% in July 2013. This rate includes discouraged workers and part-time workers who would like to work full time. The labor force participation rate ticked up to 62.9% after holding steady at 62.8% for the previous three months. This explains why the unemployment rate increased last month even as more people found jobs.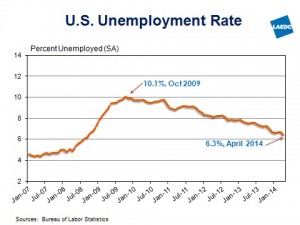 Also encouraging, the number of long-term unemployed (individuals who have been without a job for 27 weeks or more), fell by 25.7% over the year in June to 3.1 million. While on the decline, the number of long-term unemployed is still very high and accounts for one-third of all unemployed persons. Over the past 20 years, the long-term unemployed have represented about 22% of unemployed workers.
Summary: Job growth over the last several months has been solid and is consistent with overall improvements in the economy. It tells us something about how far the labor markets have come when so many commentators referred to 209,000 new jobs as nothing to write home about. It was not so long ago that 209,000 new jobs would have been something to celebrate. (Kimberly Ritter-Martinez)
Source: Bureau of Labor Statistics
GDP Growth Rebounds in Second Quarter
The Bureau of Economic Analysis (BEA) released its advance estimate for second quarter 2014 GDP growth. Exceeding expectations, the U.S. economy expanded by 4.0% during the second quarter. The second quarter report also included revisions to GDP and some of its components back to 1999. These revisions reduced the first quarter decline in GDP to 2.1% from 2.9%. Overall, the revisions revealed the underlying trend of economic growth over the past year has been stronger than initially reported.
The decline in output during the first quarter of this year is generally considered to have been an anomaly tied large swings in international trade and inventories, and unusually severe winter weather. It is actually very rare to see a dip in GDP outside of a recession – this has happened only 10 times since World War II.
The increase in real GDP in the second quarter reflected positive contributions from personal consumption expenditures, nonresidential fixed investment, residential fixed investment (housing), state and local government spending, private business inventory investment, and exports.
Consumer spending increased by 2.5% during the first quarter, contributing nearly 1.7 percentage points to second quarter growth. Spending on durable goods jumped by 14.0%. About half of that gain was motor vehicles and parts, but spending on household furnishings and appliances was also strong. Consumer spending on nondurables such as food, clothing and gasoline increased by 2.5% (ahead of expectations) and spending on services was up by 0.7%.
Nonresidential fixed investment grew at a 5.5% pace compared with 1.6% in the first quarter. Spending on structures was up by 5.3%, while business outlays for equipment rose by 7.0%. Investment in intellectual property products (e.g. software, R&D) increased by 3.5%. After declining during the previous two quarters, second quarter residential investment bounced back, growing at a rate of 7.5%.
Government consumption expenditures and investment increased by 1.6%. State and local government spending rose by 3.1% but was offset by a decline of 0.8% at the federal level. Defense outlays were up by 1.1%, but nondefense expenditures fell by 3.7%.
The change in real private inventories added almost 1.7 percentage points to the change second quarter GDP after subtracting 1.2 percentage points from the first quarter change.
Real exports of goods and services increased by 9.5% during the second quarter, but were more than offset by an 11.7% increase in imports, which subtract from GDP. Net exports (exports less imports) shaved 0.6 percentage points from second quarter growth.
The contributions of the major components of GDP to the second quarter percent change (4.0%) breakdown as follows:
Personal consumption expenditures: 1.69 percentage points
Gross private domestic investment: 2.57
Net exports of goods and services: -0.61
Government consumption: 0.30
In a statement issued by the Federal Reserve on the same day as the GDP release, members of the Federal Open Market Committee (FOMC) indicated economic growth had picked up since their June meeting. While labor market indicators were mixed, the FOMC felt there was enough underlying strength in the economy to support further reduction of Fed's asset buying program by another $10 billion per month, while keeping the Fed Funds target rate within the 0 to 0.25% range. (Kimberly Ritter-Martinez)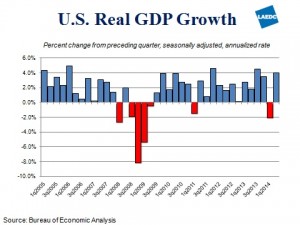 Source: Bureau of Economic Analysis
Consumer Spending Picked Up in June
Total personal income increased by 0.4% in June after rising by the same rate in May. Total private wages and salaries were up by nearly 0.5% ($28.9 billion) over the month. Wages in goods producing industries increased by a 0.6%, while wages in service providing industries increased by 0.4%. Wages and salaries in the public sector were up by 0.1%. Government transfers (social security, Medicare, Medicaid, unemployment insurance, veterans' benefits) rose by 0.2% or $4.2 billion.
Wages and salaries, both private and public make up about half of total personal income – nearly $7.3 trillion in June. Workers in service producing industries earned 66.8% of all wages and salaries. Persons employed in goods producing industries earned 16.9% and public sector workers earned 16.3%. Other sources of personal income include government transfers; employer contributions to employee pensions and insurance, and government social insurance programs; proprietors' income; rental income; and personal interest and dividend income.
Both real disposable income (income after taxes and adjusted for inflation) and real personal consumption expenditures increased by 0.2% over the month. Real consumer spending on durable goods increased by 0.4%, while spending on nondurable goods was up by 0.3% (after declining by the same amount in May). Spending on services ticked up by 0.1%.
On a year-to-year basis:
Real disposable income rose by 2.3%
Real personal consumption expenditures also increased by 2.3%
Growth in real spending on goods (3.5%) outpaced spending on services (1.7%)
Even though personal consumption expenditures accelerated last month, American consumers still managed to set aside a portion of their income. The personal saving rate held steady over the month at 5.3%, slightly higher than the average rate year-to-date of 5.1%.
Rising incomes and the rebound in consumer spending go hand-in-hand with this year's job gains. People seem to be feeling a bit more secure about their employment outlook and are increasingly willing to increase spending on things like autos, household furnishings, home improvement projects, travel and entertainment. (Kimberly Ritter-Martinez)
Source: Bureau of Economic Analysis
U.S. Car and Light Truck Sales in July
Light vehicle sales were up over the year by 4.5% to 16.4 million units (seasonally adjusted annual rate) in July.
Total passenger car sales, including foreign and domestic models, rose by 1.2% to 7.8 million units, but the increase was entirely the result of stronger sales of vehicles assembled in the U.S.
Sales of domestic autos increased by 3.1% over the year to 5.7 million units
Foreign auto sales were down by 3.8% over the year to 2.1 million units
Compared with June, passenger car sales were down across the board by 3.6%.
Combined sales of foreign and domestic light trucks were up by 7.7% over the year, rising to 8.6 million units. Light trucks accounted for 52.6% of total vehicles sales last month, slightly ahead of the long-run average ratio of 51.1%.
Sales of domestic trucks were up by 8.5% over the year to 7.3 million units
Foreign light truck sales rose by 3.9% over the year to 1.3 million units
Compared with May, however, sales of trucks and SUVs dipped by 1.8%.
Sales of medium-heavy trucks, used primarily by businesses to haul freight and make deliveries, jumped by 17.3% over the year in July to 413,000 units. This was the fastest sales pace for medium-heavy trucks since March 2007.
Affordable interest rates, attractive incentives, and the desire to replace current vehicles are trumping massive industry recalls and higher transaction prices in the minds of American consumers. The average incentive per vehicle rose by approximately 7.1% to $2,731 in July. Sales of pick-up trucks and SUVs also remained strong. According to J.D Power, consumers spent more than $36 million on new vehicles in July. That was the highest for the month of July since 2005 and was an increase of $3 billion over July a year ago. (Kimberly Ritter-Martinez)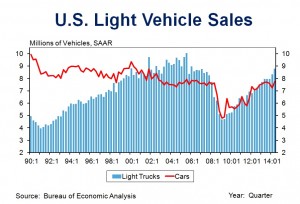 Source: Bureau Economic Analysis and J.D. Power
Events of Interest
L.A. Area Chamber of Commerce; 350 S. Bixel St. Los Angeles, CA 90017
The U.S. Commercial Service is offering an educational/networking forum for consultants, manufacturers, suppliers and project developers interested in business opportunities resulting from ADB lending activities ($22 billion annually from 2011–2013) and meet with ADB experts and procurement specialists who will discuss how to track these opportunities and how ADB contracts are implemented. A second day of individualized meetings will take place at the City Bank Building August 8. (4th & Flower St). Cost: $50.00: On-line registration only. Seating will be limited. Sponsorship Opportunity Available.
Los Angeles Convention Center; 1201 S. Figueroa St., Los Angeles, CA 90017
The Los Angeles Tourism and Convention Board (LATCB) Market Outlook Forum is the strategic forecasting conference for any business interested in capitalizing on L.A.'s record tourism growth. Los Angeles welcomed a record 42.2 million visitors from around the globe in 2013, making it one of the most-visited destinations in the U.S., and forecasts call for continued growth with 50 million visitors by 2020. This valuable event will help you prepare to welcome them and benefit from the tremendous anticipated growth in visitation.
L.A. Hotel Downtown; 333 S. Figueroa St., Los Angeles 90071
Introducing a long-term look at the regional economy and innovation in education. Featured guest speakers: Timothy White, Chancellor California State University system and Dr. Robert A. Kleinhenz, Chief Economist, LAEDC.
Palm Springs, CA (see event website for locations)
Join regional leaders from the Counties of Riverside, San Bernardino, Imperial, Inyo, Mono, Kern and Los Angeles to discuss the opportunities, challenges and solutions facing the various energy industries of Southern California. Learn from private and public sector leaders about how new programs, policy and trends that will affect your business and community. Explore interactive exhibits and discover new energy efficient and sustainable technologies.