v.18 n. 29 – Released July 21, 2014
This Week's Headlines:
June State and Local Employment Report
The Employment Development Department (EDD) released state and local employment reports for the month of June. Total California nonfarm employment increased by 24,200 jobs over the month in June measured in seasonally adjusted (SA) terms. This followed a gain of 18,900 jobs (revised) in May.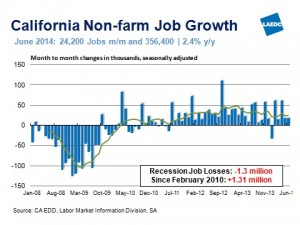 The year-over-year change showed an increase of 356,400 jobs (SA). This equates to a growth rate of 2.4%. California is continuing to add jobs at a faster rate than the nation as a whole. In June, the national year-over-year employment growth rate was 1.8%. California's private sector added 344,800 jobs (an increase of 2.7%) over the year, while employment in the public sector rose by 11,600 jobs (0.4%).
Nearly every major private industry sector added jobs over the year: mining and logging; construction; trade, transportation and utilities; information, professional business services; educational and health services; leisure and hospitality; and other services for a total gain of 369,200 jobs. Educational and health services combined posted the largest gain on a numerical basis, adding 103,400 jobs over the year (up 4.5%). Information posted the largest percentage gain, with the number of payroll jobs increasing by 5.1% (22,800 jobs). The bulk of new jobs created in the Information industry were in motion picture and sound recording industries.
Two categories posted job declines over the year: manufacturing (-4,400 jobs) and financial activities (-8,400 jobs).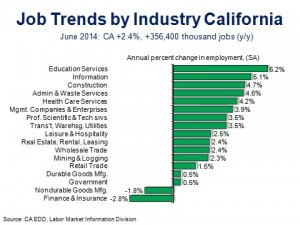 California's unemployment rate fell to 7.4% in June, down from 7.6% in May and 9.0% a year ago. June's unemployment rate was the lowest since July 2008 when the unemployment rate was 7.3%. The state's unemployment rate is now below the long-run average (since 1990) unemployment rate of 7.7%. California's civilian labor force contracted by 0.2% over the month, but was up by 0.1% over the year.
County highlights:
(Note: With the exception of the Los Angeles unemployment rate, county level numbers are not seasonally adjusted, which means there can be large month-to-month fluctuations in jobs counts. A truer picture of how local labor markets are faring can be gained from focusing on the year-over-year numbers. Annual trends "correct" for the seasonal factors that influence certain industry sectors over the course of the year.)
In Los Angeles County, the seasonally adjusted unemployment rate fell to 8.1% in June, down from 8.2% in May and from the year ago rate of 10.0%. In June total nonfarm employment in Los Angeles County increased by 4,800 jobs over the month and was up by 88,800 jobs over the year, an increase of 2.2%.Educational and health services reported the largest year-over gain last month with an increase of 36,700 jobs. Most of the new jobs (92%) were concentrated in healthcare and social assistance.

Professional business services payrolls increased by 21,700 jobs over the year. Much of the job growth in this sector was attributable to an increase in administrative and support services (17,200 jobs). Employment in information expanded by 12,200 jobs, while construction was up by 10,000 jobs. Employment in the retail sector posted a boost of 9,900 jobs.

There were five sectors that posted job declines last month: government (800 jobs); wholesale trade (1,900 jobs); finance and insurance (1,500 jobs); and manufacturing (16,300 jobs).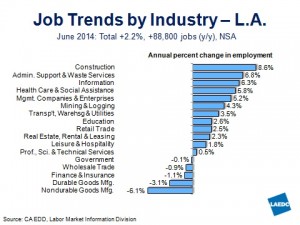 In June, the unemployment rate in Orange County was 5.2%, up from 4.9% in May but still below the year-ago figure of 6.5%. It was also below the long-run average for Orange County of 5.6%. Nonfarm payrolls increased by 6,700 jobs over the month and were up by 29,900 jobs over the year (an increase of 2.0%).
In the Riverside-San Bernardino area, the unemployment rate in June was 8.4%, up from 8.0% in May but below the year ago rate of 10.7%. Nonfarm payrolls expanded by 3,800 jobs over the month and were up by 34,400 jobs over the year. This represented an increase of 2.8%, making the Inland Empire one of the faster growing metro areas in California.
In Ventura County, the unemployment rate was 6.2%, down from the year ago estimate of 7.9%. Last month, total nonfarm employment declined 200 jobs. Over the year ending in June, the number of nonfarm jobs in Ventura County increased by 5,300 (up 1.8%).
Summary: California's economy has added jobs steadily since the start of the year and continues to outpace the nation in yearly percentage gains. As a result, the state has narrowed the gap between the unemployment rate in California and the national rate. Job gains were broad, with record high employment levels in professional, scientific and technical services, health care, and leisure and hospitality. (Kimberly Ritter-Martinez)
Source: California Employment Development Department, LMID
---
U.S. Trade Deficit Narrows in May Due to Record High Exports
The U.S. Commerce Department reported that the U.S. trade deficit declined to $44.4 billion in the month of May, down from a revised $47.0 billion in April. Overall imports fell slightly in May while exports witnessed a record high on a monthly basis. However, it is important to point out that similar to exports, non-petroleum imports actually experienced a record high in May. When comparing May 2013 to May 2014, the trade deficit was just barely lower (from $44.8 billion to $44.4 billion).
U.S. exports increased by $2.0 billion from $193.5 billion in April to $195.5 billion in May, due mainly to a rise in foreign demand for U.S. automotive vehicles, parts and engines, other goods and consumer goods (diamond and cell phones). On a year-to-year basis, U.S. exports were up by 4.4% as increases occurred in foods, feeds and beverages, petroleum products, and consumer goods.
U.S. imports slightly declined by $0.7 billion to $239.8 billion in May, down from $240.5 billion in April. The monthly drop in imports mainly reflected the lower U.S. demand for foreign oil. When compared to last year, U.S. imports jumped by 3.4%.
The U.S. bilateral trade deficit with China, the largest trade deficit between the U.S. and any country, rose from $27.3 billion in April to $28.8 billion in May. The deficit with China accounted for 46.5% of the total U.S. trade deficit in May. Imports from China were $37.9 billion in May, while exports to that nation were $9.2 billion. Imports from China strengthened by 3.6% on a year-to-year basis and exports to China rose by 5.7% when compared to last year. U.S. trade deficits with Mexico, Japan, the European Union and Germany all decreased in May. However, the trade deficit with Canada and South Korea increased in May.
Bottom Line: A decline in U.S. exports was one of the key drivers of overall GDP weakness during the first quarter. Noting that imports subtract from GDP and exports positively contribute to GDP, trade essentially reduced GDP by 1.5 percentage points in the first quarter of this year.
The decline in the trade deficit in May will positively impact U.S. economic growth in the second quarter of 2014. However, the record high in imports (when excluding petroleum) points in a different direction as we look towards the June figures unless exports can reach new record highs as well. (Ferdinando "Nando" Guerra)
---
SoCal Home Sales and Median Prices in June
Southern California home sales in June totaled 20,654 units (new and resale houses and condominiums), a decline of 4.4% compared with the same period last year. Sales throughout the six-county region have now fallen on a year-over-year basis for nine consecutive months. The pace of home sales last month was the slowest for the month of June in three years. Home sales have not been above the long-term average for any given month in eight years.
The median price across Southern California increased by 7.8% to $415,000, the highest median price since it was $415,000 in January 2008. However, June's year-over increase was the lowest since June of 2012 and ended 22 straight months of double-digit price gains. Pent up demand, job growth and low interest rates are still exerting upward pressure on median prices, but the rate of increase has slowed over the past several months to a more sustainable pace. The decline in affordability is starting to act as a weight on home prices – income growth has not kept pace with price increases and buyers are no longer able to use risky loans to extend their buying power like they could prior to the financial crisis.
There are a number of other indicators that point to the return of a more normal housing market. The use of larger loans (sometimes referred to as "jumbo") is up this year as are adjustable rate mortgages. Distressed property sales are down, and investor and cash purchases continue to decline. The supply of homes for sale, while still low by historical standards, is also improving. (Kimberly Ritter-Martinez)

Source: Data Quick News
---
U.S. Retail Sales in June
Total U.S. retail and food services sales increased by 0.2% in June (seasonally adjusted) after rising by 0.5% in May. Retail sales have now increased for five consecutive months. Core retail sales, which exclude automobiles, gasoline stations, and building and garden supply centers, increased by 0.5%. Core retail sales is an important indicator because it aligns more closely with the measure of personal consumption expenditures the BEA uses to calculate GDP. The stronger core reading points to more robust consumer spending in the second quarter.
Vehicle sales and home improvement centers were a drag on total retail sales in June but the overall gain was broad based. The strongest performing sector was general merchandise stores, which reported sales were higher by 1.1% higher over the month. Following were health and personal care stores, and non-store retailers, both of which recorded an increase in sales of 0.9%. Other sectors posting increases were apparel (0.8%); sporting goods, hobby, book and music stores (0.6%); food and beverage stores (0.4%); gasoline stations (0.3%); electronics and appliance stores (0.1%); and miscellaneous store retailers (0.1%).
After being a primary driver of retail sales for most of this year, automobile sales declined by 0.3% last month as did sales at restaurants and bars. Sales of furniture stores dipped by 0.1%, while building material and garden supply centers experienced a drop in sales of 1.1%.
On a year-over-year basis, total retail sales in June were up by 4.3%. The best performing sectors were non-store retailers (8.1%); health and personal care stores (7.9%); motor vehicles (6.4%): and restaurants and bars (5.6%). The only major sector to post a year-over sales decline was the sporting goods, hobby, book and music store sector (-2.0%).
Looking ahead, ongoing improvements in the labor markets will continue to support higher retail sales and stronger consumer spending throughout the next quarter. (Kimberly Ritter-Martinez)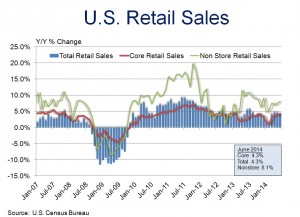 Source: U.S. Census Bureau
Events of Interest
L.A. Area Chamber of Commerce; 350 S. Bixel St. Los Angeles, CA 90017
The U.S. Commercial Service is offering an educational/networking forum for consultants, manufacturers, suppliers and project developers interested in business opportunities resulting from ADB lending activities ($22 billion annually from 2011–2013) and meet with ADB experts and procurement specialists who will discuss how to track these opportunities and how ADB contracts are implemented. A second day of individualized meetings will take place at the City Bank Building August 8. (4th & Flower St). Cost: $50.00: On-line registration only. Seating will be limited. Sponsorship Opportunity Available.
L.A. Hotel Downtown; 333 S. Figueroa St., Los Angeles 90071
Introducing a long-term look at the regional economy and innovation in education. Featured guest speakers: Timothy White, Chancellor California State University system and Dr. Robert A. Kleinhenz, Chief Economist, LAEDC.