v.18 n. 28 – Released July 14, 2014
This Week's Headlines:
California General Fund Closes Year With Cash Surplus
The State Controller's office recently released the fiscal year end (June 30, 2014) financial report for the California General Fund. The General Fund is the primary account from which California funds day-to-day operations and programs. As of June 30, 2014, total receipts were up slightly (0.5%) to $104.0 billion compared with fiscal year 2012-2013. Meanwhile, total disbursements ($99.6 billion) increased by 3.5% over the same period. Over the year, receipts exceeded disbursements by $4.3 billion and as of June 30, the state's cash balance stood at $1.9 billion.
The 2013-14 budget largely met expectations based on the Governor's January budget estimates. Total disbursements were slightly lower than projected (-0.4%), while total receipts exceeded expectations by 2.4%. (Note: projections cited in the June Controller's report are based on the Governor's January budget proposal and not the May revision.)
Total revenues (receipts from taxes, licenses, fees or investment earnings) were up by 1.5% to $101.6 billion over the year. The largest contributions to the state's general fund come from personal income taxes, retail sales and use taxes, and corporate income taxes.
Over the 12 months ending in June, personal income taxes fell by 1.7% to $66.2 billion compared with the previous fiscal year but still managed to beat expectations by 2.6% as a result of gains in jobs and total payrolls, along with capital gains from stocks and housing.
Growth in revenues from corporate income taxes were a big surprise over the past year, shooting up by 11.7% to $8.5 billion and ending the year 9.3% ahead of projections. This reflects an improving economy and its positive impact on profits.
Sales and use taxes climbed by 10.4% to $22.2 billion, but still fell short of the Governor's January budget estimate by 1.8%.
The schedule of cash disbursements in the Controller's report showed that expenditures on Local K-12 Education amounted to $36.8 billion during FY2013-14, which was up by 1.0% compared with the previous year. Disbursements to community colleges increased by 11.6% to just over $4.0 billion. Funds received by the UC and CSU systems rose by 16.7% to $5.4 billion. Over the last fiscal year, spending on education was 53.2% of total General Fund expenditures. During the 2014-15 fiscal year, spending on education is expected to rise to 54.0%, somewhat ahead of the long-run average ratio of education to total General Fund expenditures of 51.5%.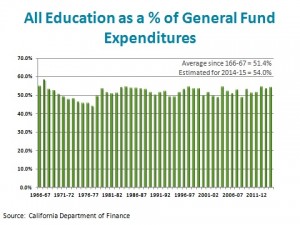 Spending for the Department of Corrections rose by 12.8% over the year to $8.8 billion, while outlays for Health and Human Services increased by 15.2% to $2.1 billion. The amount of money required to pay the interest owed on outstanding bonds and the principal of maturing bonds, edged up by 0.5% to $4.5 billion compared with the previous fiscal year.
In late June, $4 billion of revenue anticipation notices were repaid as scheduled. The $4.3 billion surplus noted above was used to repay the $2.4 billion in outstanding loans carried forward from June 30, 2013, which left the General Fund with a positive cash balance ($1.9 billion) at fiscal year-end for the first time since June 30, 2007. A positive cash balance means that the state had funds available to meet all of its payment obligations without needing to borrow from outside lenders (Wall Street) or dip into the $23.8 billion available in internal special funds.
(Kimberly Ritter-Martinez)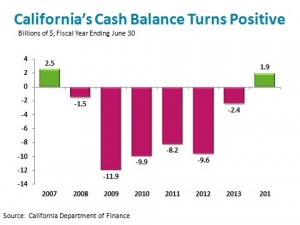 Source: California State Controller's Office
---
Consumer Credit Continues Upward Climb
Total consumer credit outstanding (all non-mortgage debt) increased by 7.4% ($19.6 billion) over the month in May to nearly $3.2 trillion (seasonally adjusted annualized rate). Over the twelve months ending in May, total consumer credit has increased by 6.6%.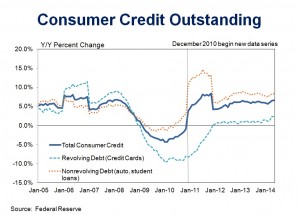 Growth in non-revolving debt continues to be dominated by borrowing for student loans and new automobiles. Non-revolving debt was up by 9.3% last month or $17.8 billion, representing about three-quarters of all consumer debt.
Currently student loans make up 55% of non-revolving debt (1Q14). Since 2009, the federal government's role in financing higher education has increased substantially. In 2009, the percentage of total non-revolving debt held by the federal government was 13.6%. By 2013, that share had grown to 32.6% and in the first quarter of this year, the federal government held 33.7% of total non-revolving debt ($770.9 billion). The non-revolving debt held by the federal government includes student loans originated by the Department of Education under the Federal Direct Loan program and the Perkins Loan Program, as well as Federal Family Education Program loans that the government purchased under the Ensuring Continued Access to Student Loans Act.
After a surprising increase of 12.3% in April, revolving debt (a more volatile series) settled down, expanding by 2.5% in May ($1.8 billion).
The ratio of household debt to disposable income has been on an upward trend since the end of the recession but held steady at 24.8% last month. The long-run ratio (since 1995) is 22.8%. Measured against disposable income adjusted for inflation, the debt to disposable income ratio rises to 27.0%. Although at an all time high, charge-off data indicate the relatively high ratio of debt to income is not currently cause for concern. One reason for this may be that in the wake of the recession and financial crisis, credit standards across virtually all types of debt have been increased. Therefore, even though debt to income measures are high, the debt itself is of better quality than before the recession.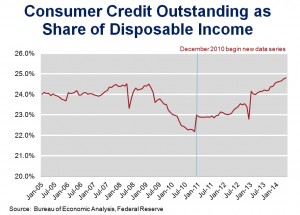 Stronger employment growth, stock market gains and low interest rates are giving consumers the confidence to take on more debt, but they are borrowing mainly to finance higher education and to replace worn out vehicles as opposed to running up large credit card balances. (Kimberly Ritter-Martinez)
Source: Federal Reserve
---
Census Bureau Reports Majority of STEM College Graduates Do Not Work in STEM Occupations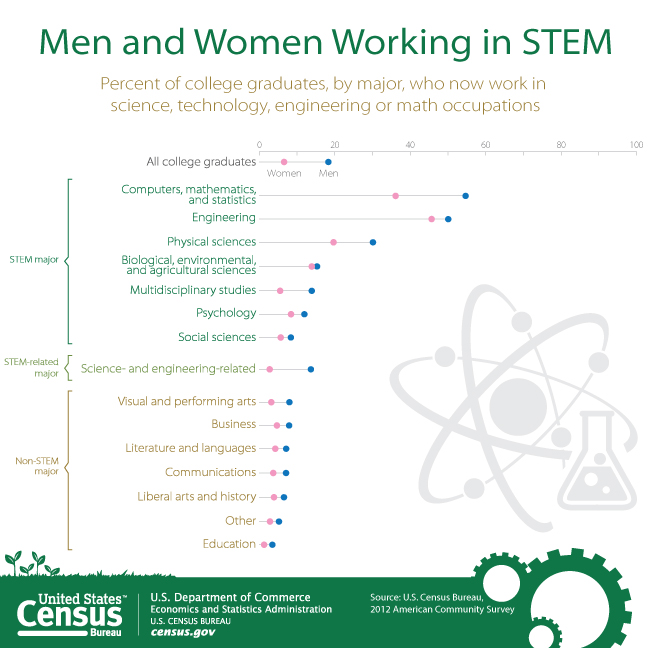 Source: Census Bureau
Events of Interest
L.A. Area Chamber of Commerce; 350 S. Bixel St. Los Angeles, CA 90017
The U.S. Commercial Service is offering an educational/networking forum for consultants, manufacturers, suppliers and project developers interested in business opportunities resulting from ADB lending activities ($22 billion annually from 2011–2013) and meet with ADB experts and procurement specialists who will discuss how to track these opportunities and how ADB contracts are implemented. A second day of individualized meetings will take place at the City Bank Building August 8. (4th & Flower St). Cost: $50.00: On-line registration only. Seating will be limited. Sponsorship Opportunity Available.
L.A. Hotel Downtown; 333 S. Figueroa St., Los Angeles 90071
Introducing a long-term look at the regional economy and innovation in education. Featured guest speakers: Timothy White, Chancellor California State University system and Dr. Robert A. Kleinhenz, Chief Economist, LAEDC.