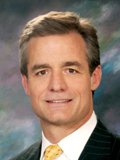 It's been a honor to serve as Chairman of the LAEDC Executive Committee.  The opportunity to serve in this role over the last 15 months has been nothing short of inspiring.  Not only have I had the opportunity to  work hand-in-hand with the amazing talent that makes up this organization, but I've been able to do so at one of the most exciting times in the history of our city.  The intent focus that this organization has on developing and retaining business is extraordinary, and the transformational growth of Los Angeles in recent years would not have been possible without our tremendous leaders and membership.  Bill Allen, in particular, has been a tireless leader whose unique ability to bring people together in support of common goals has truly helped this region thrive.
As my term as Chairman comes to a close, I remain committed to supporting the continued growth and vitality of the City of Los Angeles in other capacities, including serving as an advisor to the County of Los Angeles on strategic matters related to job creation, activating underutilized properties, and stimulating improved economics. I will also continue to work closely with Bill to  build meaningful partnerships between the LAEDC, the County of Los Angeles and cities that make up this region.
I've had several meetings with my successors, Raul Anaya and Praful Kulkarni, and could not be more confident about the future of the LAEDC and of Los Angeles overall.  Raul and Praful bring extraordinary experience and a unique perspective that will help drive our key initiatives forward.
I am grateful for the opportunity to serve this great organization in a leadership capacity over the past 15 months, and I look forward to continuing to serve the LAEDC as a member, a local business leader, and a proud Angeleno.
Warm Regards,
Lew Horne
President of the Greater Los Angeles-Orange County Region for CBRE, Inc