v.18 n. 26 – Released July 1, 2014
This Week's Headlines:
Personal Income Up in May; Consumption Falters
Total personal income increased by 0.4% in May after rising by 0.3% in April. Total private wages and salaries were up by 0.4% ($29.2 billion) over the month. Wages in goods producing industries jumped by 0.6%, while wages in service providing industries increased by 0.4%. Wages and salaries in the public sector were up by 0.1%. Government transfers (social security, Medicare, Medicaid, unemployment insurance, veterans' benefits) also rose by 0.4% or $10.5 billion.
Wages and salaries, both private and public make up the bulk of personal income (50.6% in May). In addition to wages and salaries, personal income also includes supplements to wages and salaries. These are employer contributions to employee pensions and insurance, contributions to government social insurance and make comprise 12.1% of total personal income. Also counted as personal income are proprietors' income (9.4%); rental income (4.3%); personal interest and dividend income (14.2%); net government transfers (9.4%).
Although real disposable income (income after taxes and adjusted for inflation) increased by 0.2% in May, real consumer spending dipped by 0.1% over the month. This followed a decline of 0.2% (revised) in April. Real personal consumption of durable goods (driven almost entirely by automobile purchases) increased by 1.0% but was offset by a 0.3% decline in spending on nondurable goods and 0.2% on services.
On a year-to-year basis:
Real disposable income rose by 1.9%
Real personal consumption expenditures increased by 1.9%
Growth in real spending on goods (2.8%) outpaced spending on services (1.4%)
Less spending and higher incomes last month translated to a higher personal saving rate. The saving rate (as a percentage of disposable personal income) increased to 4.8% in May from 4.5% in April. A higher saving rate and a slight increase in credit card usage may lead to an increase in consumer spending during the months ahead, but Americans seem to be holding back. Expectations for higher gasoline prices and unsettling news from around the world may be factors.
In addition to the monthly release of national personal income data, first quarter state-level personal income figures were also released last week.
Overall, state personal income increased by 0.8% during the first quarter of 2014 (seasonally adjusted, quarter-to-quarter). Personal income grew in 46 states. Washington, Vermont and West Virginia were the fastest growing at 1.4%. Personal income fell by 2.9% in North Dakota, 0.3% in South Dakota and 0.2% in Arkansas and Nebraska. California ranked 43rd among the states with an increase 0.3%. (Kimberly Ritter-Martinez)
Source: http://www.bea.gov/newsreleases/national/pi/pinewsrelease.htm
---
California State Tax Revenues Decline by 1.1% in 1Q14
The U.S. Census Bureau released figures for first quarter state and local tax collections by state and type of tax. Total state tax revenues collected across all fifty states (excluding Washington, DC), edged up by 2.3% to $206.8 billion in the first quarter of 2014 compared with $202.1 billion during the same period last year. In contrast, tax collections in California faltered during the first quarter, declining by 1.1% to $33.4 billion.
Two of California's largest tax revenue categories recorded an increase in collections during the first quarter. General sales tax revenues rose by 2.0% to $9.1 billion – exactly matching the rate of increase in sales tax revenues across the nation. California's corporations paid $1.9 billion in income taxes during the first quarter, an increase of 11.9% over the same period a year ago. Offsetting the gains made in sales and corporate tax revenue collections (and then some), revenues from individual income taxes fell by 11.1% to $16.2 billion. Nationally, state personal income tax revenues were down by 1.0%.
Altogether, sales and personal income taxes made up nearly 68% of state tax revenues nationwide. California relies more heavily on these two revenues sources: sales and personal income taxes contributed 80.5% of total tax revenues during the first quarter of this year. In contrast, corporate income taxes, which tend to be more volatile, made up a much smaller share of total tax revenues – 5.0% for the nation on average and 5.6% for California.
In spite of the quarter-to-quarter decline, California tax revenue collections are coming in at or slightly ahead of projections. According to the State Controller's office fiscal year-to-date (through May), the state's leading three revenue sources ran $1.3 billion ahead of projections, while total revenues exceeded expectations by $1.8 billion. (Kimberly Ritter-Martinez)
Source: http://www.census.gov/govs/www/qtax.html and http://www.sco.ca.gov/
---
U.S. Travel and Tourism Spending Declines in 1Q14
Real spending on travel and tourism declined by 1.0% (seasonally adjusted annualized rate) during the first quarter of 2014. This followed five consecutive quarters of expansion. Between the third quarter of 2012 and the final quarter of 2013, spending on travel and tourism expanded at an average rate of 4.1%, well ahead of growth in real GDP. However, the contraction of travel and tourism spending during the first quarter was not surprising given the general slowdown of the economy as a whole.
The Bureau of Economic Analysis tracks the travel and tourism industry in the United States because it is an important source of jobs and economic activity, particularly here in Southern California. Additionally, foreign visitors traveling to the U.S. are a significant source of export revenues.
Total direct spending on travel-related goods and services was $772.1 billion during the first quarter of this year compared with $774.1 billion in the previous quarter. The decline was attributable a drop off in spending on recreation and entertainment (-11.2%); food services and drinking places (-3.5%) and passenger air transportation (-1.5%). Partially offsetting the declines was growth in traveler accommodations (2.3%); other transportation (2.1%); and shopping (0.3%).
Overall prices for travel and tourism goods and services were up by 2.3% in the first quarter after remaining mostly flat during the final quarter of 2013. Rising by 13.2%, higher prices for traveler accommodations were primarily responsible for the general uptick. Travelers also paid more for restaurant meals, entertainment, recreational activities and spent more at retail outlets. In contrast, prices for passenger air transportation fell by 5.5%.
The travel and tourism industry has been a source of steady job growth since the second quarter of 2010. Direct employment in this sector increased by 2.1% during the first quarter of 2014 after expanding by 2.7% in the previous quarter. Transportation employment was up by 3.2%, while the number of travel-related recreation and entertainment jobs expanded by 3.1%. Payrolls at restaurants and bars increased by 2.4%, retail employment was up by 1.0%; accommodations employment ticked up 0.6%. During the first quarter, over 5.4 million workers were employed in the U.S. travel and tourism industry, which equated to about 4% all nonfarm payroll jobs in the U.S. (Kimberly Ritter-Martinez)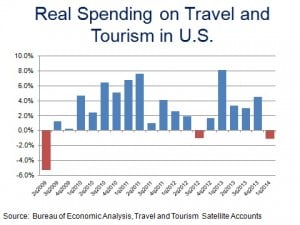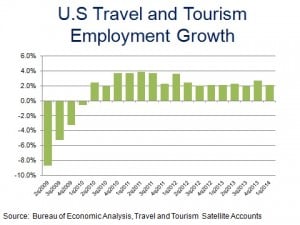 Source: http://www.bea.gov/newsreleases/industry/tourism/tournewsrelease.htm
Events of Interest
L.A. Area Chamber of Commerce; 350 S. Bixel St. Los Angeles, CA 90017
The U.S. Commercial Service is offering an educational/networking forum for consultants, manufacturers, suppliers and project developers interested in business opportunities resulting from ADB lending activities ($22 billion annually from 2011–2013) and meet with ADB experts and procurement specialists who will discuss how to track these opportunities and how ADB contracts are implemented. A second day of individualized meetings will take place at the City Bank Building August 8. (4th & Flower St). Cost: $50.00: On-line registration only. Seating will be limited. Sponsorship Opportunity Available.