The LAEDC team of economists in our Kyser Center for Economic Research is pleased to provide the Otis Report, commissioned and presented by Otis College of Art and Design, which reveals the details of our Creative Economy.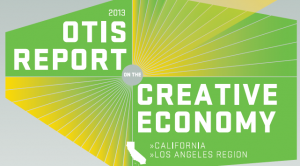 The 2013 Otis report data reveals an unmatched concentration in California and, more locally in L.A. County, of creative arts and related industries, including entertainment, design, fashion, digital media, arts education, the working arts, illustration, game design and more.  This report reinforces the awareness that L.A. County is the creative capital of the United States.
Read the report here, 2013_Otis_Report_Creative_Economy, and for a quick overview please see the press release from Otis College here.
LAEDC wishes to thank Otis College for it's partnership, with special thanks to Otis College President Samuel Hoi.  This valuable look at our Creative Economy is possible because of the vision of Otis College, which commissioned the research from LAEDC.