At the LAEDC Mid-Year Economic Forecast event on July 17, 2013, the LAEDC released its 2013-2014 Mid-year Economic Forecast Report.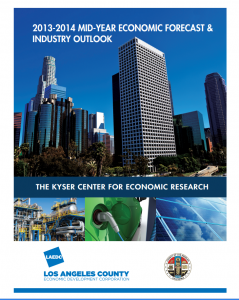 Key findings:
US Economy

Slow growth for the remainder of 2013, accelerating in 2014
Continuing improvement in the labor markets, consumer sector will show strength
Risks: uncertainty regarding economic problems in Europe, slow growth among key trading partners; continuing drag on economy from U.S. fiscal policy.

California Economy

Private sector job gains, unemployment rate down gradually but steadily
Housing and construction up substantially
 Risks: near-term drag on state and local economies from sequestration budget cuts; supply constrained price increases and rising interest rates take edge off gains in the housing sector

Southern California Economy

Regional economy continues to improve, but unevenly across counties and industries
Private sector expansion continues, but labor market recovers at a slow pace
Download a full copy of the report here.