Los Angeles Trade-Technical College is pleased to announce "Defining Your College's Competitive Advantage in the Emerging Green Economy: A How-to-Guide to Building High Quality, Strategic Green Programs of Study".
Whether your education and/or workforce development organization is beginning to explore developing green programs of study, has a number of grant-funded green training programs and must decide if and how to sustain them, or has well-established green programs of study and is exploring developing more, the process for determining the best course of action involves careful consideration of a number of factors to maximize program success and sustainability.  Building upon experiences at LA Trade Tech, the Guide outlines a strategic program development approach. The primary tool in this guide, The Competitive Advantage Analysis Tool, assesses key internal and external factors using data unique to each organization presented graphically in a spider diagram which assists colleges in: identifying strengths and challenges, prioritizing green programs of study, and identifying strategies and next steps for program development.
While the focus of this guide is on green program of study development, the approach is one that is transferable to any workforce development program or initiative as an innovative strategy for developing high quality, programs of study.  Funding for the development of the Guide and tools was generously provided by The Kresge Foundation.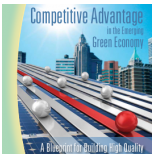 Click the cover of the guide to see The Blueprint for Building High Quality Green Programs of Study.