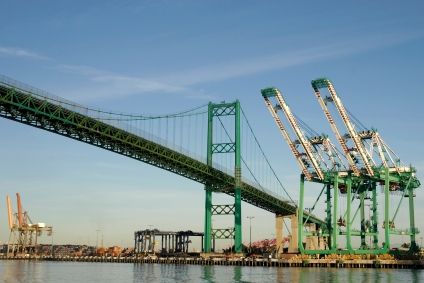 The Port of Los Angeles is the nation's busiest seaport, with cargo worth over $283 billion in 2012.  The Port of Los Angeles includes 7,500 acres of land and water along 43 miles of waterfront with 24 passenger and cargo terminals, including automobile, breakbulk, container, dry and liquid bulk, and warehouse facilities that handle billions of dollars' worth of cargo each year.
With goods‐related  transportation representing a  significant  portion  of  transportation emissions, the Port of Los Angeles(as well as the Port of Long Beach) have developed programs to cut emissions and "green" their overall operations.  Specifically, the Port of Los Angeles has Alternative Maritime Power™, or "AMP™,"which  is a one-of-a-kind air quality program that focuses on reducing emissions from container vessels docked at the Port of Los Angeles. Instead of running on diesel power while at berth, AMP-equipped ships "plug in" to shore side electrical power – literally an alternative power source for oceangoing vessels.  AMP technology is often referred to as "cold ironing" and has been used for many years on naval vessels, Baltic ferries and cruise ships operating in Alaska. The Port of Los Angeles was the first Port in the world to use AMP technology for in-service container ships.
Moreover, the world's first plug-in battery-electric class 8 truck was originally built by Los Angeles-County located Balqon Corporation as a demonstration project co-funded by the Port of Los Angeles and South Coast Air Quality Management District (SCAQMD). The original truck was powered by lead-acid batteries, however with significant advances in battery technologies and availability, the new version of the truck, Model XE-30, now operates on lithium-ion batteries which have better performance and higher energy density.  The increased energy density and operational efficiencies are expected to result in over a 150 mile range unloaded.  The Port of Los Angeles is beginning in-use testing in short haul applications to see what the truck can do in the real world.
The Port of Los Angeles is also looking at hydrogen fuel cell technologies to achieve zero emissions.  Through the Technology Advancement Program, the Port of Los Angeles has partnered with the Port of Long Beach and Vision Industries to fund the development and testing of a hydrogen fuel cell powered class 8 truck.  The truck, the Tyranno, is powered by a lithium ion battery that is charged on-board by a hydrogen fuel cell generator.  This truck is expected to achieve 200 miles on a single tank of hydrogen.  The truck is beginning testing with a local drayage company.
In addition to the XE-30 On-Road Truck, Balqon Corporation also developed a plug-in battery-electric yard tractor.  Just like the XE-30, the latest version of the yard tractor, Model XE-20, operates on lithium-batteries.  Units have been tested at a container storage facility at the port and have been able to achieve over 12 hours of operation on a single charge.  The Port of Los Angeles is now beginning to test six units at marine terminals.
Electric Rubber Tire Gantry Cranes (eRTGs) run on electric power rather than diesel fuel, which completely eliminates localized air emissions and petroleum use. West Basin Container Terminal modified two existing diesel-powered rubber-tired gantry cranes and installed necessary electric infrastructure to test the overall performance and operational applicability of eRTGs. If successful, the technology would reduce annual NOx emissions by 2.3 tons and PM emissions by 0.06 tons per crane. The technology would also eliminate the use of 10,000 gallons of diesel per crane per year, resulting in equivalent greenhouse gas reductions of 30 metric tons of CO2. In July 2012, the initial testing for the eRTGs was completed. The eRTGs were successful, able to run on full speed without any problems and is now beginning its in-use demonstration.