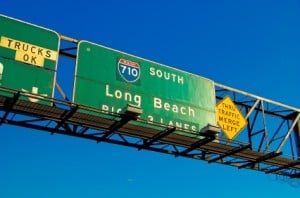 Long Beach Transit is California's seventh largest public transit operator, serving nearly 27 million boarding customers per year on 240 buses, vans, and shuttles.  Long Beach Transit has made sustainability and overall greenhouse gas emission reductions a priority for the agency for years.
Long Beach Transit was the first transit agency in the world to introduce production-model hybrid gasoline-electric buses into passenger service in 2005–as soon as they emerged from the prototype and testing phase.
Recently, the agency received 45 hybrid gasoline electric buses for use throughout Long Beach Transit's service area. This is part of Long Beach Transit's effort to phase out diesel vehicles in their bus fleet.
Source: Long Beach Transit.