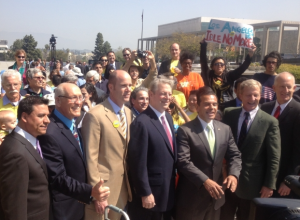 Councilman Huizar joined former Vice President Al Gore and Mayor Villaraigosa to celebrate DWP's setting forth agreements this week to end its reliance on coal power by 2025.  As Chair of the Energy and Environment Committee, Councilman Huziar recently approved a contract for geothermal energy, which will help replace some of this power.
The City currently gets 40% of its electricity from coal, which we must now replace with cleaner sources.  The geothermal project, along with landmark solar programs advanced by Councilmember Huizar, are helping the City transition to a more sustainable energy mix.
"Kicking our coal habit is the single biggest thing the City can do to cut global warming pollution," said Councilmember Huizar following the announcement.  "I do think it's important to make sure that we're not simply shifting from coal to other fossil fuels, but instead to clean, renewable sources."
*Originally released by the Office of LA City Councilmember Huizar on Tuesday, March 26, 2013.