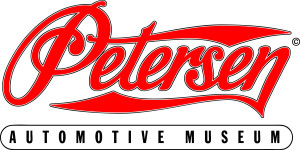 Since 1994, the Petersen Automotive Museum has occupied the third most travelled intersection in Los Angeles (the corner of Fairfax Avenue and Wilshire Boulevard), bringing rare, historic and cutting-edge vehicles for display in the automotive design capital of America–Los Angeles.
"If there is one thing that we all have in common, especially in Southern California, it's the automobile.  To some, the automobile is an appliance, but to us it is a passion."

-Petersen Automotive Museum
Currently, the Petersen Automotive Museum has an "Alternative Power: Lessons from the Past, Inspiration for the Future," which explores the history of automobile propulsion. The exhibit presents a variety of alternatives to the traditional internal combustion engine, such as turbines, electric motors, fuel cells, and more.  The exhibit also showcases a variety of fueling options beyond petroleum, such as biodeisel, vegetable oil, ethanol, etc.
Photo courtesy of the Petersen Automotive Museum