The 2013 Eddy Awards Gala Celebrated the Best in Economic Development in L.A. County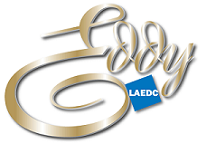 Award recipients:  Most Business Friendly City in L.A. County
La Mirada
2013 Most Business-Friendly City with less than 50,000 residents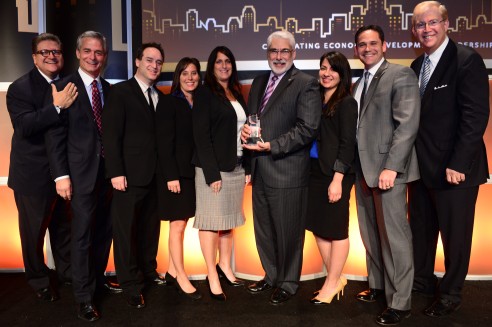 For decades, La Mirada has worked closely with businesses to meet their needs and promote economic vitality. The General Plan's Economic Development Element includes goals and policies designed to attract and retain key businesses. The City's businesses benefit from tax savings, low business license and development fees, minimal amount of red tape, quality customer service and communication with City staff, business appreciation and support, and a high quality of life. City incentives include no utility user tax or impact/exaction fees on businesses seeking to expand or relocate.  City staff work closely with local businesses through the City website, electronic newsletters, surveys, and one-on-one business visits with the Mayor and City staff. Business Licenses are completed online; development plans are reviewed, expedited and tracked without unnecessary delays. La Mirada's Real Estate Brokers Breakfast, Industrial Business Forum and Business Appreciation luncheon enhance its relationships with businesses and recognize leaders in the business community. The City's Shop Local Program encourages businesses and residents to "buy local".  La Mirada has been recognized in the Kosmont-Rose Institute's "Cost of Doing Business Survey" as one of the least expensive cities in which to do business in LA County, and today boasts an unemployment rate of only 6%. With numerous parks, bike and horse trails, a Performing Arts Center and Regional Aquatic Center; La Mirada was voted by CNN and Money Magazine as the 34th Best Place to Live in America.
This city was also a "Most Business Friendly City" finalist in 2008, 2009, 2010, 2011 and 2012.
Facts about La Mirada:
Business licenses completed online
Land assemblage – A focus on land and best-highest uses
City Council and staff conduct business visits
Shop Local program, encouraging B2B and rewards for residents
Annual Business Forum
Business recognition events including Spring Beautification Awards
Real estate brokers breakfast where City and brokers discuss current business and the real estate climate
Partnerships with LAEDC, SASSFA, Chamber of Commerce
Surveys/feedback revealing 88% customer satisfaction – La Mirada Living and Business News
Quarterly newsletter highlighting successful projectes, including general info about city services and programs
Economic development element in General Plan sets priority for future development
Strategic Plan
Low crime rate
Diversified economic base
Performing art center (McCoy Rigby), parks, bike and horse trails, regional aquatic center
34th best place to live – CNN Magazine
Low unemployment at 6%
2013 Most Business-Friendly City with more than 50,000 residents
Lancaster Wins Most Business-Friendly City; award accepted by Mayor Mark Bozigian and staff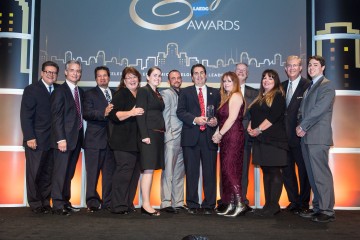 Lancaster, with its pro-business attitude and approach to encouraging business growth, has been at the forefront of innovative economic development programs for over three decades. The City's small business incubator and business park were designed to attract mid-sized manufacturing companies. During the recession, Lancaster took matters into its own hands, partnering with the Small Business Development Center and private sector to organize a competition for entrepreneurs; and creating an economic stimulus package encouraging people to Shop Local, pumping millions back into the local economy. Recognized as one of the least expensive places to do business by  the Kosmont-Rose Cost of Doing Business Survey, Lancaster's streamlined permit process and reduced fees have spurred development including the award-winning downtown revitalization project, transforming an aging downtown area into a vibrant urban center, with 50 new businesses and hundreds of new jobs. Business surveys and the Mayor's Business Roundtable provide critical input, allowing Lancaster to be responsive to the needs of the business community. The City evaluates business prospects based on the benefit to the community and customizes incentive packages to meet specific needs. And their Mayor and city staff literally travel the world recruiting new business investment.
Lancaster was a 2006 "Most Business Friendly City" finalist and was named the 2007 Most Business Friendly City in LA County.  Lancaster is the first ever repeat winner of this Award!
Facts about Lancaster:
Building permits and development fees discounted to spur development
One of the least expensive places to do business – Kosmont Rose survey
Same-Day business licenses
Businesses evaluated on benefit they bring to the City / customized package developed to meet specific needs
Assemblage of financing team helps the city understand resources that can apply to new commerce projects; customized training programs to help ensure local businesses have the workforce needed
Periodic Mayor's Business Roundtables w/ local stakeholders and business leaders to discuss and leverage opportunities to strengthen the community's economic future.
Executive Ombudsman
Online permit processing
Business incubator
Business surveys to gauge public sentiment
City department heads meet regularly to review projects and identify issues that stand in the way of successful outcomes
Positive, can-do approach to encouraging business growth
"The Winning Pitch" forum to help start-up businesses receive funding from local investors.
2013 Eddy Award Honorees Leadership in Economic Development
2013 Eddy Award Individual Honoree Yang Ho Cho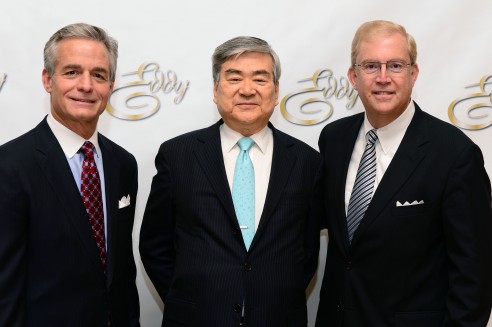 Yang Ho Cho is the chairman, CEO and major shareholder of the Hanjin Group, a global transportation conglomerate of 45 companies in the aviation, maritime and ground transport industries. As a holding company, Hanjin includes Korean Air, Hanjin Shipping, Hanjin Transportation as well as ground handling companies, private educational institutions, and not-for-profit foundations. He is also Chairman of the Board of Directors of S-Oil, a joint venture petroleum and refinery company between the Hanjin Group and Saudi Aramco.
Chairman Cho is heavily involved as a leader of numerous business and civic-minded organizations. A proud member of the board of trustees at our own University of Southern California – where he received his MBA – right here in Los Angeles! Chairman Cho is also a vice chairman of the Federation of Korean Industries, chairman of the Korea-France High Level Businessmen's Club and chairman of the Korea-Saudi Arabia Business Council. He serves on the Board of Governors for the International Air Transport Association and is Chairman of the Korea Defense Industry Association.
For more than 40 years, Korean Air and Hanjin have been an integral part of Los Angeles' economic growth. We proudly, and rightly proclaim Los Angeles County as the International Trade Capital of America with our nations most successful ports and customs district moving more than $400 billion of goods last year. And Chairman Cho's companies Korean Air and Hanjin Shipping are MAJOR reasons why we can make that claim. His commitment to excellence not only led to the creation of the magnificent Incheon Airport in South Korea – rated the world's best, but also inspired our own recent improvements of the Tom Bradley International terminal at LAX.
And now, recognizing the importance of our region as a business and travel destination for Asian and world travelers, Chairman Cho is making a significant investment in the building of the new world-class property at the site of the former Wilshire Grand hotel in downtown Los Angeles. Through the $1 billion investment from Hanjin and Korean Air, a skyline-defining hotel and mixed-use project is being constructed that will further reinforce the strong economic ties between Los Angeles and the Republic of Korea.
——
2013 Eddy Award Corporate Honoree, SpaceX
Award accepted by Chief Financial Officer, Bret Johnsen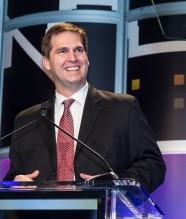 SpaceX SpaceX designs, manufactures, and launches the world's most advanced rockets and spacecraft. The company was founded in 2002 by Elon Musk to revolutionize space transportation, with the ultimate goal of enabling people to live on other planets.  Today, SpaceX is advancing the boundaries of space technology through its Falcon launch vehicles and Dragon spacecraft.
As the only private company ever to return a spacecraft from low-Earth orbit, SpaceX is poised to revolutionize access to space. One of SpaceX's founding principles is that simplicity and reliability are closely coupled. The Company made history in May 2012 when its Dragon spacecraft attached to the International Space Station, exchanged cargo payloads, and returned safely to Earth –  a technically challenging feat previously accomplished only by governments. In October 2013, Dragon again successfully delivered cargo to and from the space station, in the first official cargo resupply mission for NASA.
SpaceX's Falcon 9, Falcon Heavy and Dragon spacecraft are all designed and manufactured at the company's Hawthorne headquarters—a complex that spans nearly one million square feet. More than 3,000 of the world's brightest and most technically advanced employees work at the facility, leading – and dare we say: "winning" – this generation's space race. SpaceX designs and builds over 70% of its vehicles in-house, making their Hawthorne headquarters one of the few places in the world where you can view an entire rocket or spacecraft being manufactured.  And again, this is all being done right here, in our very own backyard.
Not only is aerospace alive and well here in Los Angeles County, but with leading-edge, anchor companies like SpaceX, we are continuing to push the creative limits, to change the contours of the aerospace industry and to expand the creative bounds of what is possible in space travel. We are proud to be home to SpaceX – a company that personifies our region's boundless creativity, our transformative design prowess and our unlimited capacity to innovate – until we reach – and perhaps someday touch  the stars.
2013 Eddy Award Honoree, University of Southern California (USC)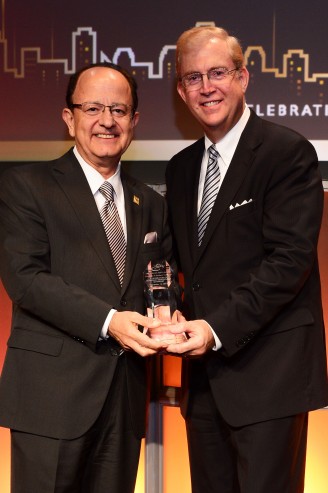 Award accepted by Dr. Max Nikias, President of USC
The University of Southern California is one of the world's leading private research universities. An anchor institution in Los Angeles, a global center for arts, technology and international business, USC enrolls more international students than any other private research university in the U.S.   Home to more than 40,000 students, 3,500 full-time faculty and 12,000 staff, USC is the largest private employer in the city of Los Angeles.
Continuing to add vitality to the regional economy, the University recently launched The USC Village redevelopment — the largest economic development project to be proposed in South Los Angeles. It will be an economic engine for the City and County of Los Angeles, generating approximately 12,000 new jobs (4,000 construction-related, 8,000 permanent), and infusing funds into our local economy.
In addition to dining and retail, USC Village will provide housing adjacent to campus, reducing traffic in the neighborhoods and freeing up housing in the community for local residents.  For this vision, and the many other ways that USC continues to energize the growth of our regional economy, USC is being recognized as a 2013 Eddy Award honoree.
#########
UPCOMING LAEDC EVENT
LAEDC Annual Economic Forecast and Industry Outlook
The largest economic forecast event in downtown Los Angeles
Wednesday, February 19 at the LA Hotel Downtown
7:00am to 8:00am – Networking  Breakfast w/  Exhibitors
8:00am to 10:30m – Speaker Program
First official announcement of our speakers:
Innovation in Healthcare featuring Thomas M. Priselac, President and CEO, Cedars-Sinai Health System Los Angeles
Financial Markets Outlook featuring Tad Rivelle, CIO, Trust Company of the West (TCW)
Economic Forecast featuring our own Dr. Robert Kleinhenz, Chief Economist, LAEDC Kyser Center for Economic Research
SPONSOR:  Be the first in line as a sponsor to secure the limited opportunities for category exclusivity.  Please contact Marilyn McPoland, 213-236-4312, [email protected]  or Elsa Flores at [email protected]  at your earliest opportunity.