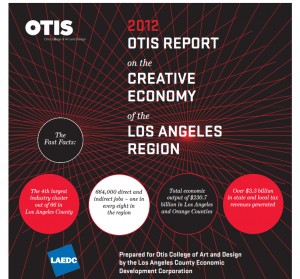 LAEDC released its 2012 Otis Report on the Creative Economy of the Los Angeles Region, which  is the sixth edition of an annual report commissioned by Otis College of Art and Design to do the impossible: quantify creativity by analyzing the financial impact of creative industries and practitioners in the Los Angeles region. It puts real numbers to creativity.
The findings continue to astound. The economy driven by the arts, design, and entertainment again ranks 4th out of 66 industry clusters in L.A. County. Supporting one in eight jobs in the region in 2011, the creative economy had a total regional output of $230 billion in revenues. The creative economy is undeniably powerful in Southern California. Like sunshine and diversity, creativity is a defining resource of our region.
Download the full report here.