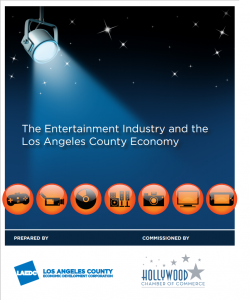 In November 2012, the LAEDC released a report titled The Entertainment Industry and the Los Angeles County Economy.  This report looks at the local entertainment economy and its impact to our region.
View the full report here.
Key findings:
The entertainment industry employed nearly 162,000 wage and salary workers in Los Angeles County during 2011, equivalent to nearly 5% of the 3.3 million private sector wage and salary workers in the county. In addition, the industry employed more than 85,000 free-lance professionals and other independent contract workers. With a combined total of 247,000 workers, this is one of the largest industries in the county.Setting aside the stereotypical starving actor/waiter, many who work in the industry earn pay that is well above of the average wage in Los Angeles County. The average annual wage in the entertainment industry was $117,000 in 2011, more than double the average ($53,300) across all private sector industries.
The industry does not just provide jobs; it is a key component in the Los Angeles County economic engine. With most of the industry's "sales" taking place outside the county — even outside the United States – the industry makes a significant contribution to the local economy as proceeds from sales of movie tickets, videos, and other programming come back to the county. This causes ripple effects in terms of jobs, incomes, and local and state sales taxes. In addition to the 247,000 jobs that are tied directly to the entertainment industry, industry activity creates additional jobs indirectly, both through the businesses that supply to the entertainment industry (caterers, florists, and so on) and through spending in the local economy by workers in the entertainment and supplier industries.