Email Carolyn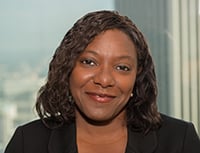 Carolyn Hull is the Executive Director of ACTIVATE LA (formerly L.A. PLAN). ACTIVATE LA is a subsidiary of the Los Angeles County Economic Development Corporation (LAEDC) and partners with the public sector in Los Angeles County to plan and implement real estate and financing transactions that attract investment and retain and grow Los Angeles County's employment base. ACTIVATE LA assists in bringing together the resources of the public and private sectors in real estate collaborations to serve the public good with a focus on job creation and business growth.
Previously, Ms. Hull was the Chief Financial Officer at Genesis LA. Genesis LA is a real estate based investor that directs its capital and strategic advisory services to projects located inner city communities throughout Los Angeles County.
Prior to joining Genesis LA Ms. Hull was the South Los Angeles Regional Administrator for the Community Redevelopment Agency of the City of Los Angeles (CRA/LA). In this role, Ms. Hull managed all redevelopment programs, activities and staff for the South Los Angeles region. Prior to that, Ms. Hull served as the CRA/LA's Manager of Capital Finance. In this capacity, she analyzed project-financing plans, and developed financing structures to optimize the utilization of public and private resources for all of CRA/LA's priority projects. At the same time, Ms. Hull served as the co-founder and President of the Los Angeles Development Fund (LADF). Under her leadership, LADF received and managed a $75 million New Markets Tax Credit Allocation. In addition, Ms. Hull managed CRA/LA's $700 million portfolio of conduit bonds.
Prior to joining CRA/LA Ms. Hull served as a Director at CB Richard Ellis Consulting (CBRE Consulting), based in Los Angeles. At CBRE Consulting she provided consulting services for a wide range of real estate development projects for corporate, institutional, nonprofit, and governmental clients in key service areas all over the United States, including economic development and redevelopment, development feasibility analysis, highest and best use studies, fiscal and economic impact analysis, policy analysis, transit-oriented development, and corporate location strategy.
Ms. Hull holds a Bachelor of Science degree in Industrial Management from Carnegie-Mellon University and a Master of Science degree in Economics and Urban Planning from the London School of Economics, in addition to a Certificate in Real Estate Finance from the Massachusetts Institute of Technology.
Phone: 213.236.4828